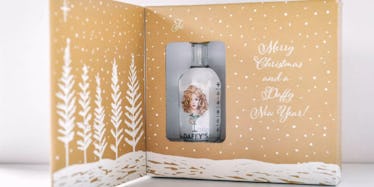 These Holiday Cards Come With A Mini Bottle Of Gin For That Extra Christmas Cheer
It's about that time to start making your holiday wish list. Sure, add a few gifts on there for yourself, but make sure to find a few for friends and family. If sending gifts aren't your thing, I invite you to check out Daffy's Gin holiday cards. It's so easy to send them, and each card comes with a mini bottle of gin for that extra Christmas cheer.
Daffy's Gin is a small distillery located in the United Kingdom. If you haven't been, check out one of their distillery tours to see just how awesome it is. Anyway, their gin-filled holiday cards are the perfect present to give to your friends and loved ones this holiday season. The best part? You don't even need to wrap it. It's more of a beautiful, small box than a card, but it's technically called a card. Inside of the card is a small, roughly 1.7-ounce bottle of Daffy's famous gin. It's nestled between a cardboard-colored snowy winter landscape, in between piles of white, hand-drawn snow and tall white trees. The front of the card features the face of Daffy's Gin, a woman, with a snowflake behind her and snow falling all around. It truly is a winter wonderland.
The holiday gin cards can be purchased directly from the Daffy's Gin website and are super affordable. You can order just one for roughly $10 or a six-pack of gin holiday cards for $60, according to the Daffy's Gin website. All in all, I'd say this is a super cheap way to knock out your holiday shopping. If you've got a lot of friends or have a big family, I definitely recommend checking out Daffy's Gin holiday cards.
The inside of the card reads, "Merry Christmas and a Daffy New Year!" The well wishes continues on the back and reads, "The weather outside is frightful, but the gin inside delightful, let it snow, let it snow, let it snow," according to images from the Daffy's Gin website.
If you don't want a generic message written inside the card, don't worry. Daffy's Gin will take care of it for you. And yes, they will even handwrite it. All you have to do is dictate your message in the notes section at checkout. If you forget to do that, you can contact Daffy's Gin ASAP and relay the message you'd like written on the inside of the card. Now if that's not customer service, I don't know what is.
It's not even Halloween yet, but it's never too early to start thinking about holiday gifts. Daffy's Gin holiday cards are available for delivery starting on Saturday, Oct. 22, according to the Daffy's Gin website. For those living in the United States, you will need to contact the company directly to place your international order. If you're planning to order some for yourself, I suggest you do it sooner rather than later. These cards are seriously so pretty and contain the gift of gin, so I can't imagine they will last for long.