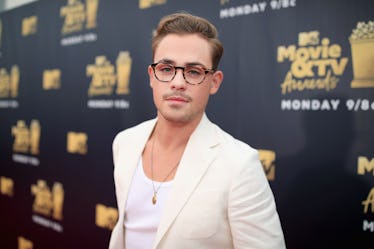 Here's What Dacre Montgomery's Zodiac Sign Says About Him As A Partner
Christopher Polk/Getty Images Entertainment/Getty Images
Not to be a cliché, but there has always been a place in my heart for the bad boy — especially one who's secretly wounded and sensitive. (Swoon.) So, of course, when Billy Hargrove cruised into Hawkins, Indiana in his '79 Camaro, with a sneer on his face and the wind blowing through his mullet in Season 2 of Stranger Things, I was instantly smitten. I also needed to know everything I could about Dacre Montgomery, the dreamy Australian actor who portrays him. That includes, of course, what Dacre Montgomery's zodiac sign says about him as a partner. Guess what? It does not disappoint.
Montgomery was born on November 22, 1994, under the sign of Sagittarius. If you are at all familiar with this sign, then you know they're notorious heartbreakers. Not because they mean to be cruel or insensitive, but because it's so easy to fall under the spell of their innate charm. They also tend to take a more casual and short-term attitude when it comes to matters of the heart. That's not to say by any means that they aren't able to forge lasting and powerful bonds, but it will take a very special connection to keep a Sag's interest long enough to capture this freedom-loving sign's heart.
In the case of Montgomery, it appears he's found that special someone in his girlfriend, Liv Pollock, an Australian model. The two have been dating since at least March 2018 when they made their red carpet debut at the 2018 Emmys. According to Pollack in an interview with The Daily Telegraph Australia, the two met through shared work contacts in Perth. Their relationship started like so many others, just two people chatting through social media and growing their connection from there. If there's any question about the seriousness of their relationship, Pollack actually moved to Atlanta with Montgomery during the filming of Stranger Things in April 2008. Aww.
But, what is it actually like to be loved by Montgomery? Here is what we can surmise based on his zodiac sign.