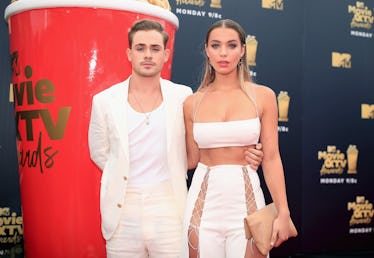 IRL, Dacre Montgomery From 'Stranger Things' Is In A Supportive Relationship
Christopher Polk/Getty Images Entertainment/Getty Images
Season 3 of Stranger Things brought fans many gifts — among them, eye candy in the form of Dacre Montgomery, who plays Hawkins' resident bad boy Billy Hargrove. It's hard to not wonder whether Montgomery is dating anyone, especially with all of Billy's gratuitous, sweaty, shirtless scenes that make you feel like you're breaking out in a sweat. Yes, the Mind Flayer is disgusting and terrifying, but at least you can fantasize about Billy flirting with you the way he did with Mrs. Wheeler, right? (Or is that just me?) So, who is Dacre Montgomery dating? The Stranger Things actor has been boo'd up for a bit with Liv Pollock, an Australian model.
It's unclear when their relationship started, but they have been together at least since March 2018. Pollock shared a shot of the two posted up at the 2018 Emmys — their red carpet debut — in September 2018. Her caption thanked "this incredible human", aka Montgomery, for "the last six months of adventure." The two met because they ran in the same professional circles in Australia. "Perth being a small place, we knew each other through mutual contacts from work," Pollack said an interview with The Daily Telegraph Australia. They started chatting on social media and took their connection from there.
Since then, it seems, all signs point to Pollock and Montgomery being a super cute and supportive couple. Here's what you need to know about the relationship between these Aussie hotties.