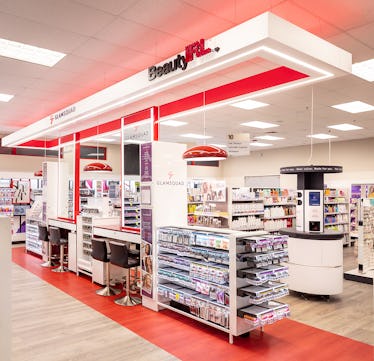 Yes, You Can Now Actually Try On The Makeup At CVS Thanks To Their New BeautyIRL Shops
CVS
Drugstores often hold a special place in many beauty lover's hearts. In many cases, this is the place where many of us (myself included) first discovered everything from our initial staple facial cleansers, to moisturizers, mascaras, and lipsticks. And while I mostly get my beauty products from Sephora these days, I still enjoy heading down to the drugstore to buy some essentials that I simply can't find anywhere else. The only downfall with drugstores is that customers have never really been able to test out products before heading to the checkout — but all of that is about to change with CVS' BeautyIRL Shops.
Revolutionizing the shopping experience for beauty customers, CVS, in partnership with at-home beauty service GlamSquad, will completely transform its beauty department into a shop-in-shop destination, featuring brand new in-store services, like 30-minute makeup refreshers, dry-styling, blowouts, and skincare services. CVS will also offer a Test-and-Play Hygiene Bar, where trained beauty consultants ensure all testers remain clean and hygienic — but that's not all!
The revamped beauty department of the popular drugstore will feature a #TrendingNow wall, which will showcase "socially-driven" indie brands, as well as a Mini Must-Have Boutique, where you can create your own beauty bag full of your most desired mini products. Seriously, does it get any better than this?
Actually it does, because BeautyIRL will also have brand boutiques, giving the spotlight to one brand at a time, and also a K-Beauty shop-in-shop expansion.
"As one of the largest beauty retailers in the country, we understand that consumers see beauty as part of their self care routine, which is connected to their overall health and well being." Maly Bernstein, Vice President, Beauty and Personal Care for CVS Health told WWD about the exciting new project. "In today's rapidly evolving beauty retail landscape, customers want three things: brands, experience and service. These stores deliver more inspiring, interactive in-store experiences. While designing the BeautyIRL stores, we thought about the fact that 67 percent of customers rely on recommendations when making a beauty purchase."
Now if you're itching to run down to your nearest CVS, the only bad news is that the innovative concept will initially only be debuting in Florida, Massachusetts, and Connecticut. However, beginning in 2019, CVS will start rolling out the concept in additional stores and online. Yes, I know, sometimes having patience sucks, but I think this will be well worth the wait if you live outside of those three states.
But this isn't the only major announcement CVS has made this year as far as the beauty aisle goes. Back in January, the retailer announced that it is working to phase out all altered images from its beauty department. Using what the company is calling the "CVS Beauty Mark," the watermark will be attached to photos that haven't been photoshopped, which according to CVS is anything that involves "changing or enhancing a person's shape, size, proportion, skin or eye color, wrinkles or any other individual characteristics," Teen Vogue reported.
It looks like CVS is taking some major steps to become a leader in drugstore beauty world, let's hope other retailers will follow suit!