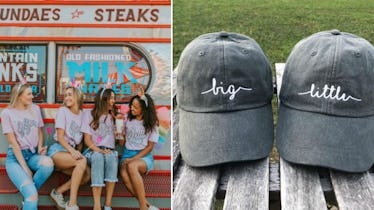 The Cutest Sorority Gifts On Etsy For Your Little Sis Won't Break The Bank
Sorority season is here, and now that recruitment is a thing of the past, Big/Little Week is near. You likely remember the moment you found out who your Big was, and couldn't control your excitement when she presented you with an adorable gift basket and welcomed you to the fam. Now, you want to do the same for your Little. If you've spent your extra cash on outfits for recruitment, don't fret. Luckily, there are some of the cutest sorority gifts on Etsy that are totally affordable.
Just like you can always rely on your sisters to be there for you, Etsy is always there with pretty much anything you're looking for. You're just a simple search away from the perfect present that your Little sis will adore forever. Also, if you're totally blanking on ideas, Etsy's got you covered with their sorority trend guide that includes matching gifts for you and your Little, affordable decor for her dorm room, Greek family jewelry, and cozy finds for a stress-free freshman year. The best part is Etsy is all about customization, so your Little will feel extra special with the personal touches you can add on to some of these gifts.
You want to be the best Big you can be, but between classes, extracurriculars, and Greek life events, your planner is jam-packed. So, let me help you out by recommending these eight sorority gifts from Etsy that are $25 and under.