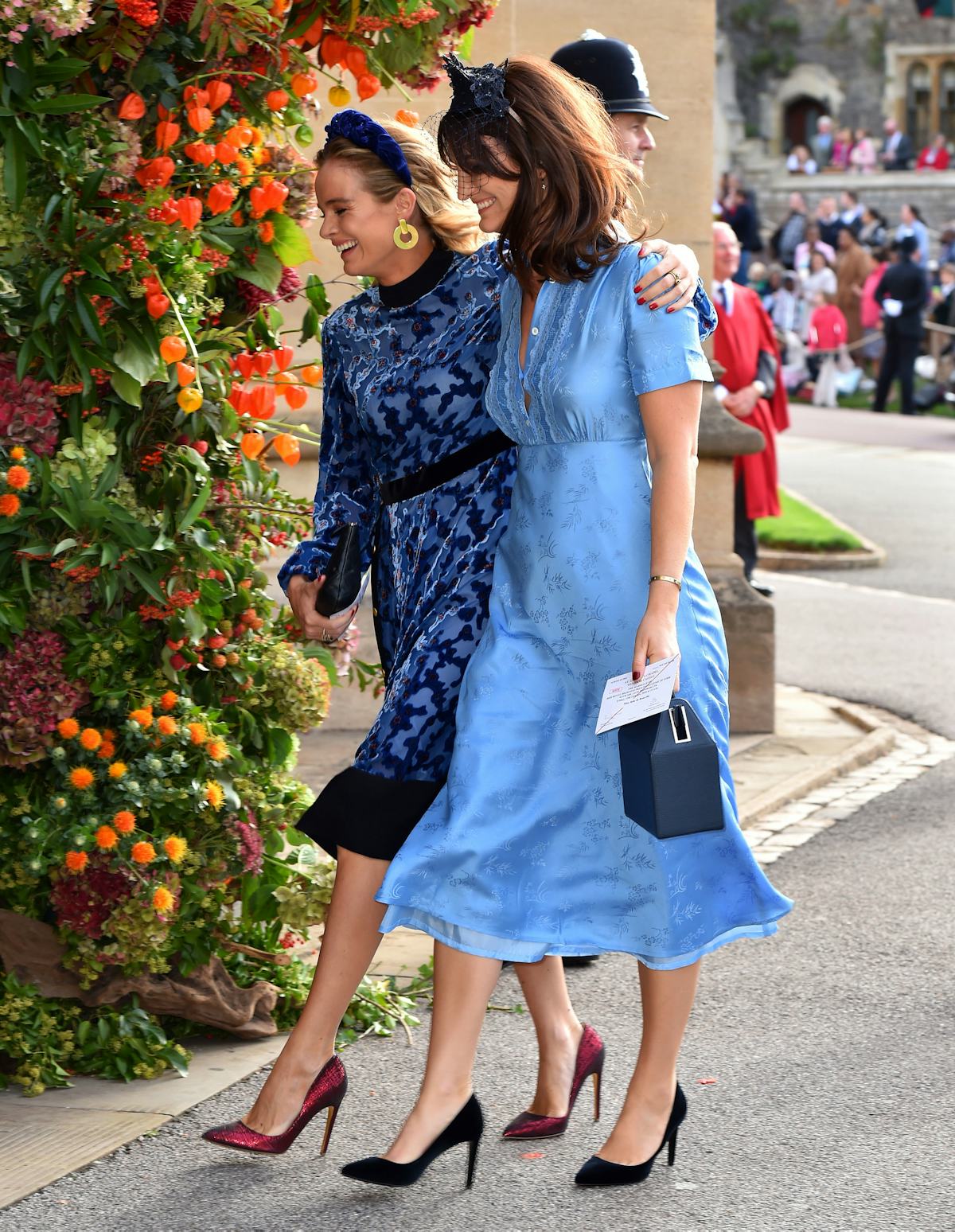 Prince Harry's Ex Cressida Bonas Was All Smiles At Princess Eugenie's Wedding
WPA Pool/Getty Images Entertainment/Getty Images
In case you haven't already heard, British royal Princess Eugenie married the one and only love of her life, Jack Brooksbank, on Friday, Oct. 12, 2018. A huge portion of the royal family was in attendance (and yes, that includes the love of my life, Prince Harry). However, awkwardly enough, it looks like Harry's ex, Cressida Bonas was at Princess Eugenie's wedding. This really comes as no surprise, though, since Bonas is BFFs with the bride. Regardless, it looks like nobody feels particularly uncomfortable about any of it. In fact, Bonas looked absolutely thrilled to be in attendance at the second royal wedding of the year 2018.
If you woke up early to watch the live stream of Princess Eugenie's royal wedding, you probably noticed that Cressida Bonas was — in fact — in attendance. She was wearing a blue and black dress, shiny red heels, and some bold yellow earrings. She also wore a really interesting blue headband instead of a hat. And, to top it all off, she had the biggest smile on her face. Really, though, she couldn't look happier. I'm sure she didn't feel uncomfortable — in the slightest — about the fact that Prince Harry was in attendance as well, because it turns out that Cressida and Eugenie were actually besties before she even dated Harry. Yes, it's true — apparently, Eugenie actually introduced the two (former) lovebirds in the first place. Yep, Eugenie set up her cousin on a date. I don't know about you, but having your cousin wing woman seems like a somewhat strange concept. Oh, well.
Anyway, it turns out that Bonas is totally comfortable around Prince Harry, as she even attended Prince Harry and Meghan Markle's wedding earlier this year on May 19, 2018. Even though other wedding-goers might have thought it was a bit strange to see her there, Bonas dated Prince Harry way too long ago for it to even matter anymore. At this point, Prince Harry is happily married with the one and only Meghan Markle, and I'm sure Bonas has been over it for a long, long time. And Meghan Markle must be OK with it, since Bonas was at their wedding. While their relationship is totally in the past, running into your ex is never fun. However, I really don't think it was weird for them. If it was, they were darn good at hiding it.
Harry's other ex, Chelsy Davy attended his wedding as well, and she made a (super real) facial expression that turned into a hilarious meme. Harry and Davy literally split up 10 years ago, but her expression was so disgruntled and the memes were honestly hilarious.
So, Cressida Bonas did, in fact, attend Eugenie's wedding and her smile was literally radiant. Luckily, it looks like the post-breakup awkwardness with Prince Harry has definitely subsided, and that her presence was widely welcomed. I wasn't actually there, though, so if I missed something, let me know. British royal drama literally fuels my life.