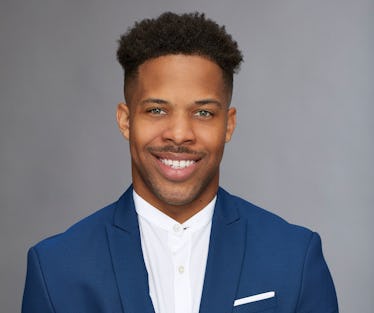 Wills Weighs In On Whether Or Not He's Down To Be The Next Bachelor
ABC
We still have a few more weeks until ABC will likely announce who our next Bachelor is, but the campaign season is in full swing on the internet. Even though Bachelor in Paradise has taken over Bachelorette drama now, fans on Twitter will still notice many others rooting for their favorite guy from Becca Kufrin's Bachelorette season to hand out roses next year. The men aren't afraid to promote themselves either, and after saying he'd be up for the gig, could Wills be the Bachelor?
Although he's currently still on TV as a Bachelor in Paradise cast member, Wills recently told Entertainment Weekly he would be open to the opportunity, saying:
I feel like if the stars align and I am single after Paradise, I would love to be the next Bachelor. I feel like I would bring intensity, but genuine intensity. There'd be some tears — some good tears, some bad tears, but I'd also bring a renewed sense of what the world looks like today. I would bring style, I would bring consideration and care and kindness to all the women that would be there. I feel like there isn't a better candidate than me.
Swoon. You'll always be the Bachelor in my heart, Wills!
The 29-year-old graphic designer first made an impression on fans during The Bachelorette for his unique style choices and unabashed nerdiness. In his very first scene after his limo entrance, he revealed his Harry Potter tattoo to Becca, which put nerds back in good standing with the franchise after former Bachelor Arie Luyendyk's Les Misérables tattoo turned out to be a dud. Although fans adored his killer reaction shots, Wills' sweet connection with Becca stemmed from their mutual nerdiness. In the end, he seemed to like her romantically more than she liked him, and he was so emotional after his elimination that he left his limo to cry outside.
Wills has now hit the beach for Season 5 of Paradise, and despite what some viewers thought when his casting was revealed, a spot on Paradise isn't necessarily a guarantee that a contestant can never be the Bachelor. After finishing in second place on two consecutive Bachelorette seasons, Nick Viall tried his luck on Paradise and, unlike his past TV stints, came across as so appealing that he was named the next Bachelor. Of course, his season didn't really go that well either, but he opened up the possibility of The Bachelor for any future Paradise men.
If given the position, Wills would also be the first black Bachelor after 22 previous seasons. The franchise is seriously overdue to break that record, and while there have been a few longshot options in the recent past (Eric "Miracle Season" Bigger and fan favorite Kenny King), Wills thinks that now is his time to shine. Speaking of Rachel Lindsay as the first black Bachelorette opening doors for himself, he told EW:
There's no time like the present. I feel like I would be a great first, and just to be the first African-American anything in a positive light would bring honor to myself and my family forever. I would welcome that challenge 125 percent.
I have to agree that Wills would be an ideal recordbreaker in this situation. Plus, can you imagine the gowns his women would rock knowing that they have to level with Wills' multicolored suits and romphims? My fingers are crossed for him to be the special guy holding roses in ABC's iconic promo shot, but we'll have to wait and see what's in store for The Bachelor. Don't let the heat get to you in Paradise, Wills!
Season 23 of The Bachelor premieres in January 2019.