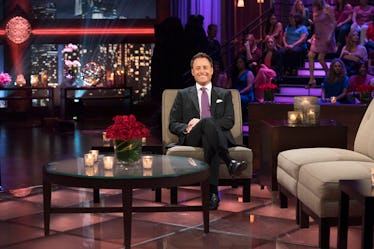 Chris Harrison Teases There Might Be 2 'Bachelors' Next Season, So Take A Deep Breath
ABC
ABC is approaching the two-week period when anything can happen as far as a Bachelor announcement. Last year, we had to wait until a week into September for Arie Luyendyk to be announced as the new lead, whereas his most recent predecessors were named in late August. There's no obvious pick for who can helm the franchise next, so with Bachelor Nation being so vocal about its favorite men, could there be two Bachelors? Chris Harrison hasn't ruled it out.
If ABC is limiting Bachelor picks to contestants from Becca Kufrin's Bachelorette season, there are about three or four solid contenders among fans. In addition to having what might be the most heartbreaking reaction to a finale rejection, runner-up Blake Horstmann won viewers' sympathy through both the expression of his emotions and traumatic events in his past. Third-place finisher Jason Tartick is also a fan favorite for just being a mature and well-spoken delight — after Nick Viall and Arie, I think we're long overdue for a fun Bachelor. For viewers, Potterhead Wills Reid and former NFL player Colton Underwood are also possibilities, and both men appearing on Bachelor in Paradise doesn't immediately knock them out from the Bachelor race.
Hinting at just how difficult the casting decision has been, Harrison told E! News that per the tradition of the last few years, ABC is waiting for reactions to Paradise to decide who may be best as Bachelor. Two years ago, Nick became Bachelor after his Paradise stint completely flipped fans' perceptions of him, but unless Venmo John or Kenny King makes it out of Mexico single, I don't foresee any wildcard Bachelors emerging from Paradise this year. However, we could see an enormous twist that has yet to appear on The Bachelor. Harrison told E!:
Because of Paradise... we have kind of a wait and see attitude. We have that luxury to wait a little bit because we don't start production until Paradise ends, so we want to get a full range and a full scope of everything and take it all in before we make our final decision. People have to understand it's less of a decision and more of an ongoing debate that lasts months and months, but we will name a Bachelor soon. Or Bachelors, or who knows?
At this point, Harrison could just be looking for new things to say and entertain himself with, but the mention of two Bachelors is worth noting. This is the first year in awhile that there are multiple, legitimate contenders for the position, and picking two men would satisfy even more fans. However, the franchise has tried this move before in Season 11 of The Bachelorette, picking both Kaitlyn Bristowe and Britt Nilsson for the position despite major critiques about the anti-feminist nature of the decision. You know, because the Bachelor franchise totally considers feminism and the state of the world when plotting its seasons. On Night One, the men voted (voted!) for their favored lead, and Kaitlyn was declared the "true" Bachelorette.
Yes, it was as uncomfortable as it sounds.
Although it would be tough to see two contestants face off in a similar vote on The Bachelor, now seems like a great time to shake things up. Instead of kicking out a Bachelor on Night One, why not try the whole season with both men? We can't predict feelings, but if you have a pairing of Jason versus Blake or Wills versus Colton, the men are definitely different enough that the chance of a woman falling for both is probably on the slimmer side. Opinions are so mixed on who the best Bachelor could be that two men sharing the role could legitimately deliver the "most dramatic season ever."
I may not be able to handle the craziness that is Night One of this potential doubleheader season, but the idea definitely intrigues me. Season 23 of The Bachelor premieres in January 2019.