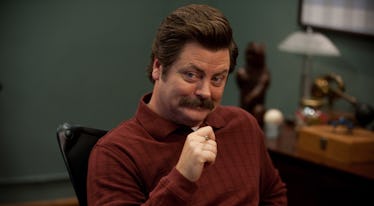 Nick Offerman Is Totally Down To Bring Ron Swanson Back If A 'Parks & Rec' Reboot Happens
NBC
We are officially at the height of reboot mania, folks, and the latest beloved series sparking revival rumors is Parks & Recreation. Nick Offerman recently watched firsthand as NBC revived another beloved sitcom this past year when his wife Megan Mullally returned to her role as the blunt and boozy Karen Walker in the Will & Grace reboot, and now he's ready to bring his own sitcom team back together for another round. So, could a Parks & Rec reboot really happen? Well, if it does, Offerman is already on board to return as the surly department director Ron Swanson.
Nick Offerman spoke about the possibility of a Parks & Rec reboot series during an interview with the Daily Beast at SXSW earlier this week. The beloved government satire series ended its 7-season run almost exactly three years ago, at the start of 2015, with a funny and sweet send-off that flashed forward into the future lives of each character. Now, Offerman thinks that it may be time to return to Pawnee, Indiana. The actor said that if show creator Mike Schur and star Amy Poehler decide it's a good idea to reboot Parks & Rec, then he will definitely be a part of it:
They're bringing every show back now, maybe they'll want to bring our show back. If that were ever to occur, it would be thanks to brains much larger than mine. Brains that I trust with my life. And so, if Mike Schur and Amy Poehler want to bring the show back and they think it's a good idea, I will certainly sign on ... I will eat more meat at their behest.
As Nick Offerman pointed out, it's hard to ignore the current TV reboots trend that is dominating the landscape right now. In particular, Parks & Rec's home network NBC has been pretty vocal in its support of rebooting its popular series. The network is currently airing a Will & Grace revival series, and has reboots of Miami Vice and The Munsters in the works as well.
On top of that, last fall, NBC's entertainment chairman Bob Greenblatt stated that he has extended open invitations to showrunners of The Office and 30 Rock to create reboots, which has spawned further rumors that The Office reboot may actually be happening. The Office showrunner Greg Daniels also co-created Parks & Recreation, so you can bet that his other series came up in conversation as well.
It seems clear that NBC would be open to a new Parks & Recreation series, and Nick Offerman is down, but the sticking point might be with the show's other stars. A lot of the cast shot to new heights of fame after Parks & Rec, and their larger film and TV careers may impede a potential return to Pawnee. Amy Poehler is starring in her own big-budget comedies like Sisters and The House, Aubrey Plaza recently top-lined Ingrid Goes West and stars in the FX superhero series Legion, and of course, Aziz Ansari created and stars in his Emmy-winning Netflix series Master of None. Not to mention that showrunner Mike Schur currently has two beloved comedy series on the air: Brooklyn Nine-Nine and The Good Place.
But the biggest breakout from Parks & Rec (which nobody probably would have predicted back in 2009) is Chris Pratt, who went from went from shlubby man-child Andy Dwyer to bona fide action franchise star thanks to lead roles in Guardians of the Galaxy and Jurassic World. Now, it seems that Pratt is focused on huge-budget action films rather than comedy, so a return to sitcom seems pretty unlikely. Luckily, Nick Offerman has a plan to include Andy Dwyer if a reboot does happen:
Pratt will come back only as a poster — a poster and a voiceover. Maybe we'll make it post-apocalyptic.
Hey, I'd watch that.