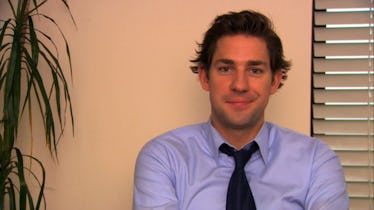 John Krasinski Has An Idea For The Possible 'Office' Reboot & It's Obviously Perfect
NBC
It's hard to escape the news that both American Idol and Roseanne, shows that dominated ABC once upon a time, have now returned as revived shows. While the majority of rebooted TV shows are dated series that millennials likely caught in reruns, we've yet to see the network return of a scripted series that 20-somethings remember as an integral part of their high school or college schedules. Rumors about NBC reviving The Office may change that, and for John Krasinski, an Office "where are they now" reboot would be ideal.
Appearing on The Ellen DeGeneres Show last month, Krasinski admitted that he hasn't heard anything official about the potential revival but that he was on board for anything that may happen. In a new interview with The Wrap, The Office star then revealed that catching up with the show's characters would be his preferred plot for a revival:
Every single day, people said, 'By the end, were you guys kind of tired of each other?' I was like, 'No no no, we had the most fun up until the last day.' I would love to play with those guys again and do something. It really comes down to the idea… the original British show, the best thing was they had a Christmas episode – it was a one-off. I would love to do that. I think it would be a sort of 'Where Are They Now' kind of thing. That would be really fun.
Originally airing from 2005 to 2013, The Office maintained a relatively constant cast throughout its nine years. Although headlining star Steve Carell left the show after Season 7 and hasn't done much onscreen comedy since, the majority of the original characters lasted the show's entire run. Such a detail feels incredibly rare for ensemble comedies nowadays. Is it just me or do current TV shows write out characters a lot more frequently than shows from The Office's era?
Seeing as viewers spent so much time watching the same people on The Office, a reunion sharing what the characters have been up to in the past five years could honestly be great. In the series finale, the Dunder Mifflin coworkers reunited for Dwight and Angela's wedding, but fans left the characters at major crossroads. The finale may have given us all the warm and fluffy feelings, but it definitely had a tone of uncertainty when it came to whether the characters would stay in touch.
While the initial fun of a reboot is always seeing where the characters are now, awkwardness can kick in if certain actors haven't returned, thus inspiring an uncomfortable scenario explaining why a character isn't present. Luckily, Krasinski wouldn't be one of those actors if The Office reboot plays out:
I would totally be interested! I still have yet to get a call. I am surprised that after Ellen and all that – I haven't gotten a call, so I haven't heard anything about it, other than on the internet – the internet is making the show. Twitter is shooting The Office reboot. I don't know if any of us are going to be a part of it!
While several other cast members have expressed interest in a revival, Carell isn't among them. Speaking to Entertainment Tonight last year, he wasn't thrilled about the idea of returning, but he had a very valid reason why:
I don't want to be a jerk about it, but I think people who like the show originally would want it to come back exactly the way it was, but that could never happen because all the writers would be different, and I just wouldn't want to recreate something that was a very, very specific moment in time. I kind of don't want to do it because I love the show so much. I think people would be disappointed, I really do.
Carell summed up exactly what can go wrong with reboot projects. Was Gilmore Girls: A Year in a Life just as witty in an internet-savvy culture? Does Fuller House work with one too many parallels to the girls' childhoods? It's debatable.
It's also only been half a decade since the original show wrapped, and while that isn't as quick of a turnaround as American Idol (two years!), maybe it's just too soon for a reboot of The Office. While Krasinski's "where are they now" idea is perfect, perhaps it would work best if NBC holds out on a revival for a little longer.