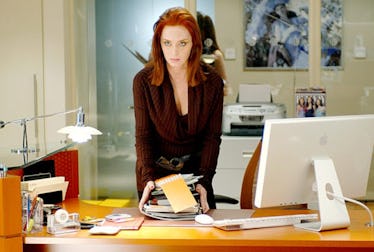 Emily Blunt Is Down For A 'Devil Wears Prada' Sequel & We're Screaming
20th Century Fox
Somehow, Emily Blunt's eye rolls and low-key burns in The Devil Wears Prada won her a place in everyone's heart, and while her career has skyrocketed since the 2006 film, it's hard to separate Blunt from the hyper-focused assistant at Runway magazine. Luckily, Blunt seems to love the film and its characters just as much as we do. Although some movies are better left untouched, could a Devil Wears Prada sequel happen? Blunt seems up for it, so I wouldn't even complain if such a sequel didn't involve Meryl Streep.
Author Lauren Weisberger, who wrote the 2003 book that The Devil Wears Prada is based on, has since written a sequel based on Blunt's character Emily Charlton. When Life Gives You Lululemons is due out in June 2018, and the news of the upcoming novel persuaded Blunt to spill to Entertainment Tonight that she wouldn't be opposed to a Devil Wears Prada sequel:
I mean if everyone wanted to do it, it would be cool... I'd be down.
By the sound of the new book's synopsis, Emily's former Runway colleagues may not appear in the upcoming story, but this is why Hollywood takes creative liberties. Screenwriters wouldn't be cruel enough to deprive us of more Blunt-Anne Hathaway face-offs, right?
In When Life Gives You Lululemons, Emily has launched a new career as an image consultant. Now situated in Greenwich, Connecticut rather than Manhattan, Emily struggles with the transition to suburban life until a controversial, A-list client comes into her life. There's no chance of Miranda Priestly not having a Greenwich summer home, so I'm definitely expecting a meeting between her and Emily in this book.
The impact of Blunt's American big break goes far beyond her professional life. Although The Devil Wears Prada put her on the road to Hollywood, the film also played a crucial part in shaping Blunt's current family life. Her husband John Krasinski hasn't been shy about his love for The Devil Wears Prada, even telling E! News that he tried to hide his obsession with the movie from Blunt in the early stages of their relationship:
We had just started dating and she had come over to my house. She popped by in between some things and I was watching it. She opened the door and I flipped the channel and she looked at me like, 'Were you just watching porn?'...I think it was better for me at the time for her to think I was watching porn than watching The Devil Wears Prada for the seventy-fifth time.
At the couple's 2010 wedding, Blunt's Devil Wears Prada co-star Stanley Tucci met her sister Felicity, eventually marrying her in 2012. Now a sister-in-law to Tucci, Blunt told ET that, despite the pair's recent reunion with Streep at a screening of Tucci's new film, the actors don't really discuss their work together:
It's so funny because, you know, we don't tend to talk about work that much. You know, actors don't end up talking about work that much. I think [Tucci] saw [Devil Wears Prada] again recently. He's like, 'It's really funny.'
Is that a tone of sequel interest I see?
According to Variety, Blunt was in serious consideration for a role in Eragon when The Devil Wears Prada was casting people. Luckily, Eragon passed on her, giving her a career boost she never could have anticipated. As she told Variety, everyone in her local L.A. coffee shop immediately recognized her when the film debuted:
It was a night and day change. The day the movie came out, all the people in the bakery suddenly knew who I was. It was surreal.
Given how popular she is now, a Devil Wears Prada sequel starring Blunt could be incredible. We'll have to wait and see how Weisberger's book is received, but I have my fingers crossed for a new film about Emily Charlton. Until then, I'll watch Blunt slay in this Devil Wears Prada scene.