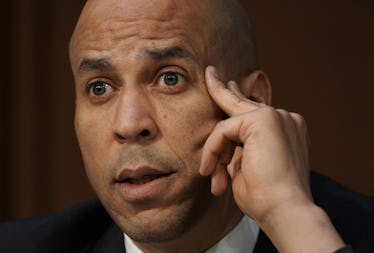 Cory Booker's Comments About Trump Have Done A Complete 180 In Recent Years
Alex Wong/Getty Images News/Getty Images
Sen. Cory Booker (D-New Jersey) wants to take down President Donald Trump. Booker tossed his hat in the 2020 presidential race earlier this year, which may or may not have been surprising to you, considering all the times he's lashed out at the president. If you're not familiar, here are a few of Cory Booker's quotes about Donald Trump that are seriously heated and reflect their history with each other.
They're interesting, too, because it wasn't always like this. Back in July 2016, Booker responded to mean comments made by Trump with love. Trump tweeted on July 25, 2016, "If Cory Booker is the future of the Democratic Party, they have no future! I know more about Cory than he knows about himself." According to CNN, the tweet was in response to a speech the senator gave to the Democratic National Convention, in which he commented on the president's views on immigration, and his comments about women and people with disabilities.
But instead of sending a jab back at the president, Booker got emotional. "I love Donald Trump," the senator said on CNN's New Day on July 25, 2016. "I don't want to answer his hate with hate. I'm going to answer it with love. I'm not going to answer his darkness with darkness."
Unfortunately, that didn't last long. Here are five instances where the senator laid out his apparent true feelings about Trump.