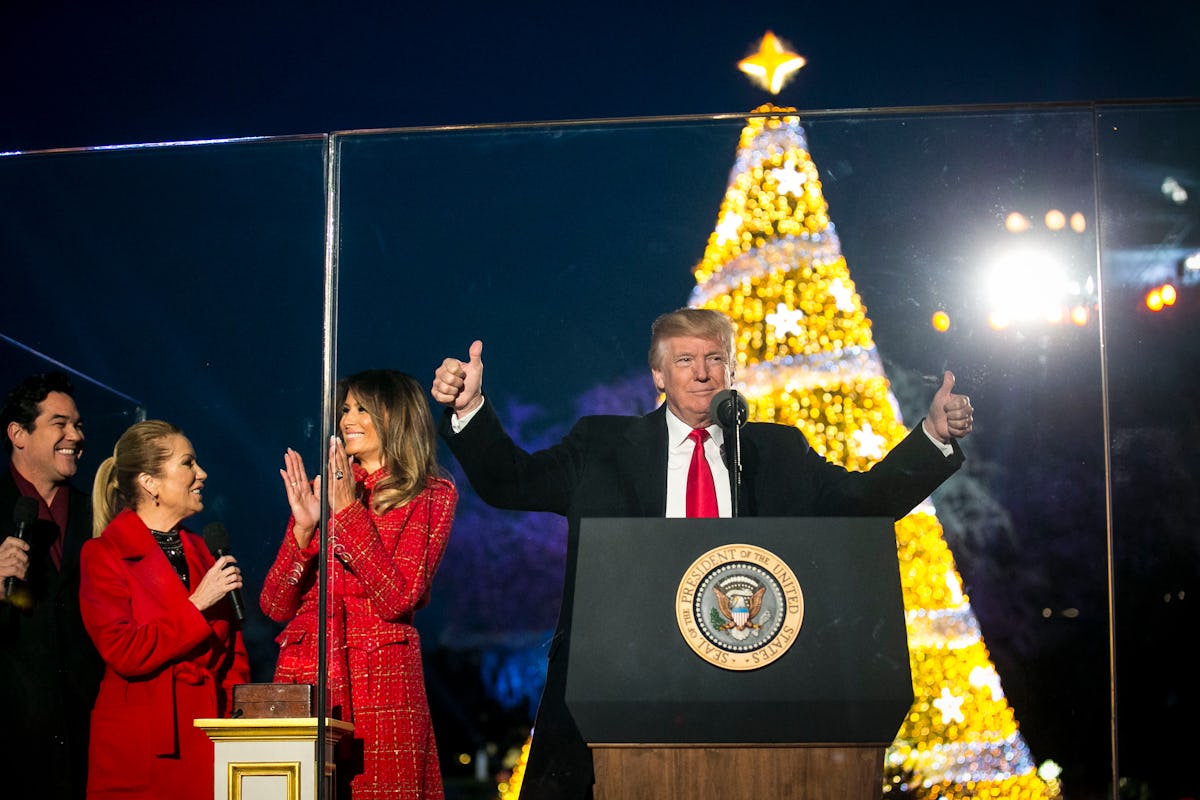 The Internet Is Roasting This Donald Trump Tree Ornament, & The Comments Are Everything
Pool/Getty Images News/Getty Images
'Tis the season, and as you decorate your tree (or whatever) and hang your stockings with care, Donald Trump has a little something special for you to add as a decoration. Amazon is selling a Trump campaign "Make America Great Again" hat Christmas tree ornament, and, uh, it's not going over too well. The comments on Trump's MAGA hat ornament are roasting the president, and it's honestly just really hilarious.
The ornament itself is pretty much like the rest of the various overpriced Trump merchandise that the president has hawked both before and after taking office. Made of brass and finished in 14 karat gold, the ornament is in the shape of one of Trump's infamous MAGA hats and costs a steep $94.28 (it's a collectible). "This ornament is sure to make any tree stand out!" the page boasts.
Well, it's already standing out on Amazon. The reviews of the ornament are… well, let's just go with "not favorable." See the below, from AJB:
Received as a gift. Put it on the tree and immediately became racist, sexist, and stupid. Can't find the colored ornaments. 1 star. Trust me.
Ouch.
As of Dec. 7, there are 108 one-star reviews on the ornament's Amazon page, and pretty much every single one is unrelentlessly roasting Trump.
You can find all of them on the ornament's Amazon page, but honestly, they're too good not to share.
A comment with the subject line "Unstable disposition" from KellyinWA read,
I put this on my shelf next to my Russian nesting doll ornaments, which have embraced it with open arms and tiny hands. Unfortunately the ornament has random nonsensical outbursts, so out to the garbage it went.
This item has caused chaos! I keep trying to set up my Nativity Scene, but then the hat starts yelling something about not allowing Middle Eastern Refugees near his tree. Then the hat insists that the banning of Refugees is the only way to Make Christmas Great Again.
Wendy lucas was very unsatisfied with the product, and convinced there had been a mix-up:
I had requested a different ornament, but for some reason, my college elected to get this one in its place. I don't understand. The other ornament wasn't perfect, but it was perfectly qualified for its position on my tree; much more qualified than the one I ended up with.
And from a reviewer named possumb:
Got this ornament as a free gift at the bottom of my hair dye box. Decided to hang it and now the whole tree smells like pee.
Gross.
Of course, Trump, I mean the ornament, had its defenders.
A review with the subject line "An actual *real* review" by Kathryn E. said,
Since there's apparently a lot of people who didn't actually buy this product but have a LOT of free time on their hands to write fake reviews, I'll write a real one. This is super cute ornament. I bought this as a gift for my parents and they're going to love it. Good quality and a nice size. Whether or not you like Trump, this makes an awesome gift for those who do.
If you're not interested in this particular ornament, there are plenty of gifts for Trump supporters, because our 45th president has never been shy about making a buck off his name.
Back in October, the president offered an orange jack-o-lantern version of his MAGA hat (which also got mocked). And if a gold-plated MAGA hat for your tree isn't enough, there's also the option of a special Christmas edition MAGA hat (for your head), that's selling for $45, nearly twice the price of the standard hat. You know, in spirit of Christmas. And that's not even going into all the Trump-branded products from before he ran for office, when the Trump Organization slapped his name on everything from skyscrapers to steaks.
But when it comes to ornaments, I guess, buyer beware.