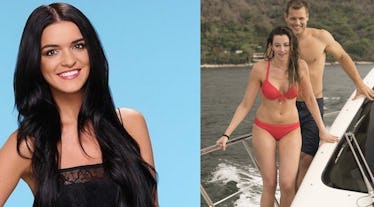 Colton Responded To Raven's Conversation With Tia On 'Paradise' In The Best Way
ABC/Chris Sjodin/Paul Hebert
Just when Tia and Colton were finally on the verge of making things official, Raven swooped in to offer up some friendly advice. The Bachelor alum from Nick's season and last year's BIP made an appearance on last night's episode of Bachelor in Paradise and let's just say she didn't hold back when it came to her pal Tia's relationship. Raven didn't mince words regarding her impression of Colton, but now Colton is speaking out... via social media, of course. Colton's tweets about Raven after their Paradise meeting explain just how the football player feels about her comments.
Colton and Tia have been through a lifetime of drama throughout their BIP Season 5 journey so far. Colton stepped into Mexico with trepidation about exploring things exclusively with Tia — the pair had a brief fling prior to his time on Becca's season of The Bachelorette, which clearly complicated just about everything. Tia moved on to Chris (that turned out... um, not well) and Colton was overwhelmed with emotions when Becca showed up (he needed closure?), but the pair ultimately realized that they should give things a shot after a lot of touch and go tears and indecisiveness. Tuesday night's episode gave them a chance to go on a real date and potentially take things to a boyfriend-and-girlfriend level. But not before Raven gave her BFF Tia her piece of mind.
"I'm trying to be supportive, but, Tia, I just don't think his intentions are good," Raven told her friend. "First of all, Colton's past dating history has been the it girl."
She also expressed her fear that Tia might get hurt in all this. "All of his actions have said something different. I'm really concerned. I do not want to see you in heartbreak," Raven added, before urging Tia to seek out who the true person Colton is.
Colton took to Twitter during the show's airing to explain that he's used to "stereotypes" about his personality, particularly from people who don't know him.
"She said that before she knew me. Nothing I'm not used to... labels and stereotypes my whole life," Colton responded to a tweet about Raven's remarks.
"I love how everyone from the show thinks they know me before they even meet me. I've dealt with this my whole life tho. Stop putting labels on people before you know them," he additionally tweeted.
To be fair, Colton's use of "everyone" implies he may be referring fellow cast members. Plus, he went on to shout out Raven for keeping things real.
Tia tweeted her own thoughts during the episode, writing "Ride. Or. Die." before tagging her fellow Arkansas native and outspoken pal.
Raven may have kept it real — um, she actually joked that she would cut Colton's penis off if things ended badly — but that didn't stop Colton and Tia from moving forward. After a candid conversation about where they stood, the couple decided to firmly commit to one another and start something official.
"I can confidently say that I can see me and Colton getting engaged at the end of this," Tia declared.
Will her prediction come true?
Bachelor in Paradise airs Monday and Tuesday nights on ABC.