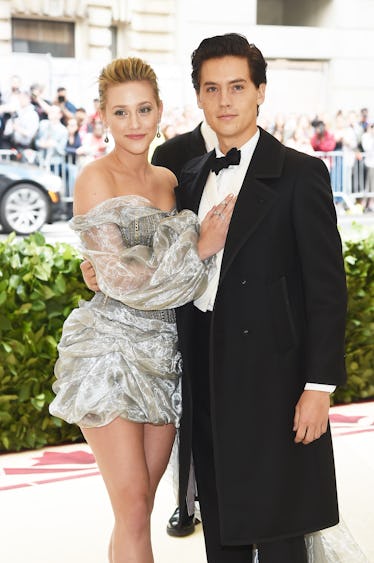 Cole Sprouse's Love Declaration To Lilli Reinhart For Her Birthday Has Fans Melting
Jamie McCarthy/Getty Images Entertainment/Getty Images
It's Lili Reinhart's birthday! And Cole Sprouse is wishing her all the best. The two have been dating for some time, having sparked a romance on the set of their hit show Riverdale. And while they've been relatively private about their love for each other, fans do get glimpses here and there of what's going on behind the scenes. Cole Sprouse's birthday message to Lili Reinhart definitely counts as an intimate look into their love for each other. And it's so incredibly sweet.
Sprouse took to his Instagram to post a rather lovely photo of Reinhart. In the photo, she's partially nude (though no lady bits are actually visible) and looking into a mirror. It's an intimate image, for sure, and fans seem really moved by it. More than that, though, it's Sprouse's caption that has made fans' hearts explode.
"Both the birthday and the gift. My little muse, happy birthday my love," Sprouse captioned the photo.
Though simple in its declaration, the caption really speaks to the depth of feeling Sprouse seems to have for Reinhart. His words coupled with the touching photo definitely show that there's lots of love, passion, and inspiration to this pairing. I can definitely see how they'd be each other's muses.
Back in August, Reinhart posted something similar to Instagram for Sprouse's birthday.
"It seems as if the world would still be a stranger to me, if not for you. I'm so thankful that our paths intertwined to form this beautiful adventure~ Happy birthday, my love," she wrote in the caption of the post. The photo she chose to go along with it showed Sprouse sitting on a ledge and pointing to the camera.
Right around the same time, Riverdale stars Madchen Amick and Skeet Ulrich were asked about the love between Reinhart and Sprouse. Their comments about the young couple were really, really sweet.
Amick seemed especially happy that Reinhart and Sprouse were finally starting to open up about the special bond they obviously share.
"It's great. I mean, they didn't talk about their relationship the entire time, until just recently," Amick said during an interview the Television Critics Association press tour. "So, it's nice that they're able to now, like, be public with it, so it's not so under wraps. But at the same time, they're in complete control of what they want to share and how they want to share it. Behind the scenes, they're so sweet with each other and they're both just exceptional people."
At the very same event, Ulrich also commented on how he viewed the relationship.
"It's a lot of work; it's a long season. It's nice. They really keep each other grounded and supported. Their friendship is beautiful," he said.
So, even to the people around them, Sprouse and Reinhart are kind of meant to be. They seem to have a lot of respect and affection for each other and that's always important in a relationship. I'm glad to see them opening up more. It's about time, isn't it?