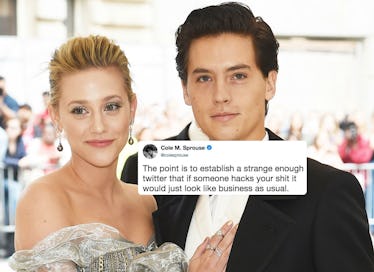 Cole Sprouse & Lili Reinhart's Twitters Got Hacked By A Troll Posting Fake Nudes
Jamie McCarthy/Getty Images
Cole Sprouse and Lili Reinhart's Twitters are a bit of a mess right now. The couple's respective accounts were both hacked this week — Sprouse's first, then Reinhart's. All of the hacker's tweets have since been deleted and Reinhart's family has said she's working to resolve the situation. Before the tweets could be deleted, though, the hacker posted fake nude photos of Reinhart, saying they found them on her iCloud. Cole Sprouse and Lili Reinhart's reaction to their Twitters getting hacked was a lot more chill than mine would have been, but I'm sure their in-person reaction was much more intense than their more composed response on Twitter after the fact.
Reinhart tweeted on Aug. 13, "Cole's Twitter has been hacked BTW. F*ck people who do that, seriously."
A surprisingly chill public reaction to a very unfortunate situation. Fans first started to notice weird as hell tweets from Sprouse's Twitter on Aug. 13 that were prompting his followers to follow specific accounts, saying NSFW things about Disney and his twin brother, Dylan Sprouse, and lots more weird things. The most concerning tweet, however, was one that gave the address of a reported Riverdale cast meet and greet in Los Angeles. There was no meet and greet planned, but it could've been dangerous had any fans actually showed up to the location in the hacker's tweet.
People quickly saw Sprouse's tweets as a red flag.
One of the most ironic parts of this whole hacking ordeal is that Sprouse once jokingly tweeted about the possibility of getting hacked.
On June 3, he tweeted, "The point is to establish a strange enough twitter that if someone hacks your shit it would just look like business as usual." Looks like homeboy failed at this task, but that's OK.
Reinhart confirmed what fans could already tell was true not long after the weird tweets started.
When the fake nude photos of Reinhart were tweeted a few days after Sprouse's account was hacked, according to Cosmo, the tweet was v threatening and said, "Shouldn't have talked sh*t about us, here's to lili fans found this masterpiece in iCloud."
Reinhart's sister, Tess Reinhart, posted to her Instagram story saying the family knows that her sister's account was hacked and that measures were being taken to fix it.
The post on her Instagram story said, "A PSA. Everyone in my family, including Lili, knows ht her accounts are hacked. thank you for trying to let us know, she's getting the situation handled."
Reinhart calling out the hacker is no surprise. She's always been vocal about her disdain for hateful comments on social media, so her tweet saying "f*ck" people who hack peoples' accounts tracks.
In the past, she's said that she hates the idea that she is obligated to be public about her relationship with Sprouse just because they're both famous. In an interview with Harper's Bazaar, she said, "I don't act to be famous. I'm just a performer." She continued, "I'm not OK talking about my relationship. I'm not going to tell you my love story. That's just not appropriate right now."
Shout out to her and Sprouse for reacting to this horrible hacking situation with composure. We stan a calm queen.