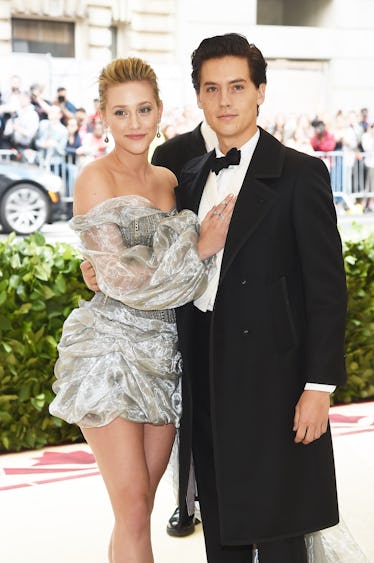 Cole & Lili's Met Gala Body Language Might Reveal Something About Their Sex Life
Jamie McCarthy/Getty Images Entertainment/Getty Images
Of all star-studded events and award shows, no red carpet gives me more joy than that of the Met Gala. I mean, what more could I ask for? Amazing outfits, celebrities from all sorts of industries, and, of course, new celebrity couple debuts. Throughout the years, the event has been a popular place for celebrity couples to make their love public and last night was no exception. In fact, Riverdale stars Cole Sprouse and Lili Reinhart's body language at the Met Gala as they made their first official debut as ~lovers~ tells us a lot about their relationship.
For those of you who haven't quite been keeping up with the Riverdale stars IRL, they have been tactfully ignoring rumors about being an item for some time now. In fact, in a recent interview with Seventeen, Reinhart said:
Every time someone asks me about it, I make a decision then and there about whether I'm comfortable. It's not like I'm in some kind of contract, but I'm not in the place where I want to talk about it, and that's totally fine. It's called a private life for a reason—it's mine, and it's special and sacred. My relationships are between me and whomever I'm with, not between me and the world.
So the fact that they finally took the plunge and made a public appearance together is a pretty huge deal. We spoke to Patti Wood, body language expertand author of SNAP: Making the Most of First Impressions, Body Language, and Charisma, about what she took away from photos of the pair on their first public debut.