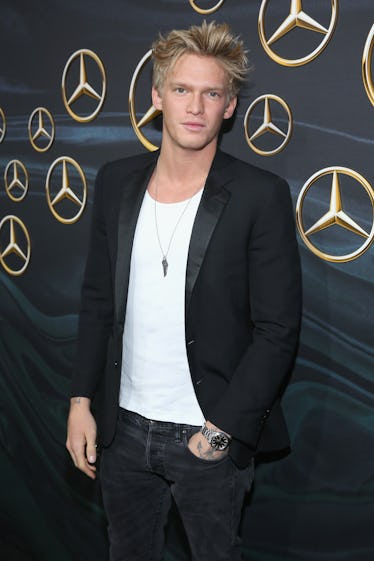 Here's What Cody Simpson's Zodiac Sign Says About Him As A Partner
Phillip Faraone/Getty Images Entertainment/Getty Images
If you find yourself falling in love with Cody Simpson seemingly out of nowhere, don't worry, you're not alone. It's hard not to catch a little celebrity crush after watching him be a super-boyfriend to Miley Cyrus (not really all that surprising when you realize Cody Simpson's zodiac sign is Capricorn) while the singer was in the hospital for tonsillitis surgery. I mean, he showed up with flowers, his guitar, and a special serenade.
Now that Cyrus is out of the hospital, the sweet couple photos just keep coming. (Including super-hot selfies of the two of them hanging out at home post-surgery, showing off Simpson's six pack, no less.) Yeah, I think it's fair to say Simpson is well on his way to becoming America's new boyfriend.
All the evidence on social media makes Simpson seems like a dream BF, but I'd like to dig a little deeper into what he's probably like as a partner by considering his zodiac sign. Simpson was born January 1, which, as I mentioned, makes him a Capricorn. Caps are known for being extremely ambitious and structured in how they approach life and achieve their goals. They also have a huge heart and take love and relationships very seriously. In other words, when you're loved by a Cap, they're all-in. Here's what else we can surmise about what Simpson is like in a relationship, based on his zodiac sign.