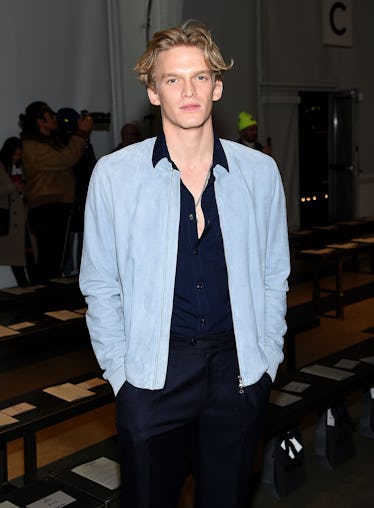 Cody Simpson's Relationship History Includes Basically Every A-Lister
Jamie McCarthy/Getty Images Entertainment/Getty Images
If you've been following along with Miley Cyrus' Instagram stories lately, you're well aware that she's newly dating Cody Simpson, and they're all kinds of cute together. The relationship happened fast, but it seems like it's the real deal — judging by the PDA-packed selfies they've both been sharing with fans on social media. And while Cyrus has been in the news lately for her split with Liam Hemsworth, Cody Simpson's relationship history isn't quite as well-known. But the singer has a notable list of famous exes.
Simpson and Cyrus have known each other for years, and a source recently told ET Online that "they have hooked up in the past." But now, it appears their relationship has gotten a little more serious — or at least more public. On Oct. 5, Cyrus officially confirmed that she and Simpson were a couple when she called him her "BF" and posted pics of him bringing flowers to the hospital while she recovered from surgery. Simpson has also shared photos of himself and Cyrus together… and even Justin Bieber is getting involved, asking Simpson if he wanted to plan a double date.
This is all exciting and current news, but it isn't the first time Simpson has been linked with an A-list celeb. Here's the full list of everyone he's dated, starting back when he was just getting started as a big-time musician.