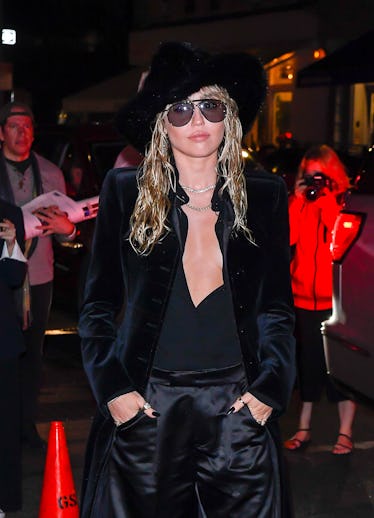 Cody Got Miley A Super Swaggy Christmas Gift Amid Cheating Rumors
Raymond Hall/GC Images/Getty Images
If you were stressing about potential trouble in paradise between your new favorite pop star power couple, you can take a big old sigh of relief — because amid recent cheating rumors, Cody Simpson got Miley Cyrus a Christmas gift that seems pretty special. Cody shared a picture of the gift on Instagram Stories on Christmas Day. It's a gold skull necklace on a long gold chain. "Museum Quality for my queen," he wrote alongside a photo of his love wearing the jewelry. I'm not exactly sure what qualifies a necklace as "Museum Quality," but I will go ahead and say that the necklace is absolutely massive.
This gift comes four days after fans began to worry that Cody might have been less than faithful to Miley. Rumors began to swirl on Dec. 21 when TMZ snapped pictures of Cody walking in New York City with playmate Jordy Murray. Cody's sister Alli was quick to put those rumors to rest by reportedly telling The Daily Mail on Dec. 23 that Murray is her brother's best friend's girlfriend, and that Cody was simply in New York visiting his bestie.
That same day, a source claimed to E! News that they reportedly saw a woman kiss Cody "on the lips" behind the DJ booth at NYC night club Little Sister. Cody's agent was quick to shut that one down, telling E! News that "there is absolutely no truth to this story" and that "Cody went out with a friend and all the rest is fabricated. Period." (Elite Daily previously reached out to reps for Cody and Miley for further comment on these cheating rumors and did not hear back.)
But it appears that the relationship was going strong on Christmas Day, when Cody and Miley Instagrammed photos from their celebration with Miley's family.
As one might expect from a Cyrus family Christmas, there was lots of twerking:
Even Cody took a shot at getting his twerk on:
Obvi there was some guitar playing on Cody's end:
Oh, and how could I forget the portion of the night when Cody sipped tea with Miley's mom Tish while they pretty much got to attend a free Miley Cyrus concert?
Their Christmas together comes as a great breath of fresh air to fans who were worried about Cody and Miley's relationship status.
Based on the fact that he just spent a very merry looking Christmas with the Cyrus family, I think we can go ahead and assume that both his sister and his agent knew what they were talking about.