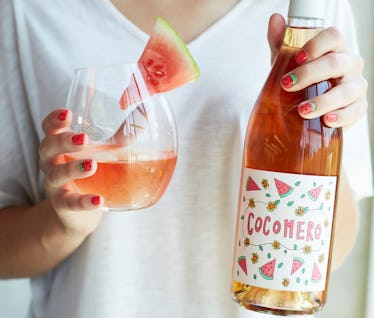 This Wine Has A Scratch-N-Sniff Label That Smells Like Watermelon Rosé & I Need It
Cocomero
There's a pretty good chance you don't know me personally, so please don't judge what I'm about to say. Ugh, OK, here goes nothing: I'm really not picky in the world of wine. I'm a fan of almost any liquid that tastes like fruit (with an ABV of at least 11.6 percent). Therefore, deciding on a bottle can be super difficult for me. So, in the end, I usually select wine based off its label. There, I said it. If you also tend to buy wine based off its label, you should know that Cocomero Wine's scratch-n-sniff label smells like watermelon rosé. It's so enticing, and there's no way I won't be buying it on my next wine run. Sorry not sorry, y'all.
That's right, popular wine brand Cocomero just released my new summer sipper: a California rosé that literally tastes like watermelons. According to a press release, it's super light-bodied and a little dry, but still manages to burst with sweet, fruity notes of watermelon. If you aren't totally sold on the taste description, rest assured that it's decorated with a scratch-n-sniff label that literally smells like watermelons. That's really what lured me in at first sight (er... sniff), and there's no way I'm ever going back. Watermelon wine for life, my wine-loving pals.
While the wine supposedly tastes like watermelons, according to Winc, it also boasts flavors of honeysuckle and rhubarb, with an impressive ABV of 12.5 percent. Between its fruity and earthy notes, Cocomero is light, dry, and perfect for a hot afternoon or rooftop extravaganza. I'd imagine it pairs perfectly with a plate of tuna rolls, maybe some shrimp cocktail, and especially a fruit platter. You can find bottles of Cocomero on Winc for only $15, and the best part is that shipping is free if you decide to buy a minimum of four bottles. It's kind of perfect, if you think about it.
If you're looking to survive the summer heat with the taste of watermelon sans the alcohol, make sure to check out Taco Bell's latest and greatest menu item: the limited-edition Watermelon Freeze. The Tex Mex haven released the new drink on Thursday, June 21, and it'll be around all summer long. If you haven't gotten to try the frozen pink beverage yet, it's juicy, frozen, and laced with small candies that look like little black watermelon seeds. Aside from being delicious, it's totally my #SummerAesthetic. TBH, I've already downed, like, five of them. At this point, I can almost feel myself turning into a literal watermelon.
On the other hand, if you're really looking to fill your summer to the brim with rosé (and rosé, only), you should check out this relatively extensive bucket list of rosé-related activities... because, well, why not? From embarking on a rosé cruise to ordering bottomless pink drink at brunch, getting rosé facials, going on a rosé crawl, ordering poolside rosé, and drinking frosé, there are so many fun and interesting ways to indulge in the pink drink while traveling around the world. In all honesty, there's no better way to stay cool for the summer, and you'll definitely get some sweet 'Grams out of it.
While I'm pretty down with anything sitting on the shelf at a wine shop, I know for a fact I'll be drawn to Cocomero's bottles immediately. With a bottle that smells like watermelons and is filled with watermelon-flavored rosé wine, there's pretty much no way I could turn it down. TBH, I could go for some right now, if you're down to sip some pink drink on this fine afternoon.