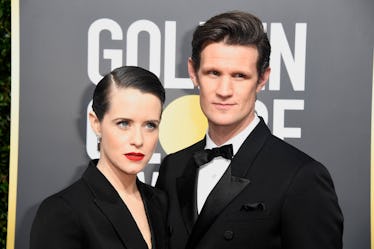 Claire Foy Responded To 'The Crown' Pay Controversy & It's Not What You'd Expect
Frazer Harrison/Getty Images Entertainment/Getty Images
On March 13, it was revealed that Matt Smith was reportedly paid more for his role as Prince Philip on Netflix's The Crown than Claire Foy was for playing the titular role of Queen Elizabeth II. The internet did not react positively to this news, but Foy and Smith remained silent throughout the whole mess until now. On Friday, March 23, Claire Foy responded to The Crown pay controversy in an interview with Entertainment Weekly. Her response still leaves things unclear as to whether or not she knew she was being paid less than her co-star before this news was revealed, but she comes to the defense of Smith and herself, saying that neither of them asked for this information to be in our news feeds. "I'm surprised because I'm at the center of it," Foy told Entertainment Weekly. "And anything that I'm at the center of like that is very very odd, and feels very very out of ordinary."
She continued,
But I'm not [surprised about the interest in the story] in the sense that it was a female-led drama. I'm not surprised that people saw [the story] and went, 'Oh, that's a bit odd.' But I know that Matt feels the same that I do, that it's odd to find yourself at the center [of a story] that you didn't particularly ask for.
It can definitely be uncomfortable to have your salary aired as public knowledge. Even though we don't know the exact figures of Foy and Smith's respective salaries, I don't blame Foy for feeling it's weird to have your paycheck be the main topic of conversation in a news cycle. But in light of the Time's Up initiative, it's important to be unapologetic about the reality of the gender pay gap so appropriate measures can be taken to correct the shortcomings. And Netflix has already confirmed it plans on closing this pay gap for the new seasons of The Crown.
On March 13, the same day the pay disparity was revealed, The Crown executive producer Suzanne Mackie said in a statement, "Going forward, no one gets paid more than the Queen." The upcoming seasons of The Crown feature an entirely new cast, however, so Foy will not be the beneficiary of this salary parity. Rather, actress Olivia Colman will now be the highest paid in the cast as she will be playing an older Queen Elizabeth. Colman and the rest of The Crown Season 3 cast (which reportedly includes Helena Bonham Carter as Princess Margaret) will play their respective roles for two seasons before the characters are recast with older actors again.
As for why Smith was paid more than Foy, it's most likely due to his higher level of fame before the show started. Smith starred as the Doctor in Doctor Who from 2010-2014 and was one of the U.K.'s most famous actors as a result, and it also got him some fame in the U.S. Foy was relatively unknown to American viewers until The Crown shot her into stardom. That fame status might've worked as an excuse in the past, but it really shouldn't matter who is more famous in the cast. If you're playing Queen Elizabeth in a show that is entirely about Queen Elizabeth's life, you should be paid the most. Cut, print, moving on.
People on Twitter weren't pleased to learn about the pay gap.
Following the news, a petition was made asking Netflix and Smith to donate the difference between his and Foy's salaries to the Time's Up fund. On March 20, the production company behind The Crown, Left Bank Pictures, issued a public statement apologizing to Foy and Smith for the media frenzy surrounding them. The statement read,
We want to apologize to both Claire Foy and to Matt Smith, brilliant actors and friends, who have found themselves at the center of a media storm this week through no fault of their own. Claire and Matt are incredibly gifted actors who, along with the wider cast on The Crown, have worked tirelessly to bring our characters to life with compassion and integrity.
The statement revealed that Foy and Smith were not aware of what the other was being paid. It said,
As the producers of The Crown, we at Left Bank Pictures are responsible for budgets and salaries; the actors are not aware of who gets what and cannot be held personally responsible for the pay of their colleagues. We understand and appreciate the conversation which is rightly being played out across society and we are absolutely united with the fight for fair pay, free of gender bias and for a rebalancing of the industry's treatment of women, both those in front of the camera and for those behind the scenes. We all have a responsibility to do what we can to ensure that these issues are tackled, and as a leading production company we want to make our contribution to the debate. So, we are now going to be in talks with the TimesUp UK campaign and ERA 50:50; organizations which are working to ensure all women have a voice.
Matt Smith has not responded to any of the controversy, but it looks like Netflix and Left Bank are putting their money where their mouth is and making sure the queen is the highest paid of the cast of The Crown. Foy ensured Entertainment Weekly that this controversy hasn't affected her excitement for the upcoming season of the show. "I'll be asking to see it earlier than it's available," she told the outlet. "I can't wait to see it. I think Olivia Colman's amazing." She forgot to mention that Helena Bonham Carter is a gift to this earth and we are not worthy of her casting in The Crown, but I'm sure she was thinking it.