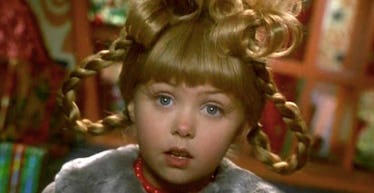 Cindy Lou Who From 'How the Grinch Stole Christmas' Is All Grown Up & Unrecognizable
Universal Pictures
It's Dec. 16, guys!! You know what that means... The Last Jedi is finally out!!!! Wait, sorry. Wrong article. We're only nine days away from Christmas!!!! Better. And what better Christmas tradition is there than to watch all of the best Christmas movies with your fam? I don't know about you guys, but in my book, the greatest Christmas movie of all time is Jim Carrey's How The Grinch Stole Christmas. But other than Jim Carrey, do you remember who was in the cast? Pictures of Cindy Lou Who from How The Grinch Stole Christmas then vs. now will seriously blow your mind.
Our girl Cindy Lou Who was played by Taylor Momsen. She was just 7 years old when she starred in How The Grinch Stole Christmas. She's 24 now, and if her name isn't familiar to you, then her face probably is. And not because of The Grinch, but because she played Jenny Humphrey on Gossip Girl. Yup, Little J was once Cindy Lou Who, and now Cindy Lou Who/Little J is the lead singer of a rock band called The Pretty Reckless.
Here's Taylor Momsen as you know her in How The Grinch Stole Christmas:
Here she is as Jenny Humphrey in the early days of Gossip Girl:
And here's what Taylor Momsen looks like now:
Yeah, Cindy Lou Who is a straight-up rockstar.
While Momsen is committed to her music career nowadays, she still gives shout outs to her acting past from time to time, like this one time in 2015 when she addressed The Grinch and the internet freaked out.
In her tweet, she said, "It's that time of year again... happy holidays everyone, 2016 will be filled with new music," and she included the video of her singing "Where Are You Christmas?"
When it comes to her time on Gossip Girl, however, she doesn't have as fond memories. By the time Jenny Humphrey was written off the show, Momsen had been committed to making her music whenever she wasn't filming. In a 2013 interview with Flare, Momsen said,
When we were making the record, I was filming Gossip Girl during the day, so I started at 5 a.m. and then work until 6 p.m. on the show, and then go straight to the studio and be recording from 7 to 3 in the morning, and then go back to set. So I kind of didn't sleep more than an hour or two a night for at least a year. Lots of coffee. But I enjoy what I do, so it's worth it.
For the 10-year anniversary of Gossip Girl, the show's creators did an interview with Vulture where they revealed behind-the-scenes secrets about the beloved CW show. In the interview, they revealed Jenny Humphrey's character arc and massive change in look was due to Taylor Momsen's life outside of Gossip Girl. In case you forgot (or have never seen Gossip Girl), Jenny Humphrey originally became the new Blair Waldorf (basically the queen bee) at their fictional school in Manhattan. Her fashion choices heavily reflected Blair's, but later in the show, Humphrey's look started to evolve into more of a Courtney Love look. Joshua Safran, one of the show's creators, says that wasn't where they wanted Jenny to go, but it's where she ended up going because of Momsen. Safran said, "I would say Jenny's transformation to a darker character wouldn't have happened had Taylor wanted to be Jenny." Yikes. He continued,
It was hard at a certain point to write for the old Jenny; we had to write for the new Taylor. Taylor wanted her hair a certain way because she was in the band and that was who she was, so we couldn't dye Taylor's hair to be Jenny every day, especially when she had events where she had to be Taylor for the weekend. So Jenny had to change.
Taylor Momsen on Gossip Girl be like: