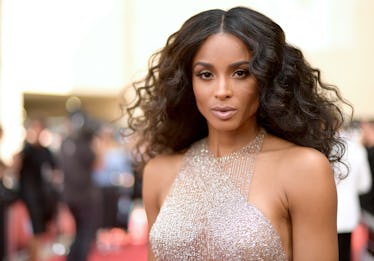 Ciara Got Really Honest About How Hard It Was To Abstain From Sex Before Marriage
Matt Winkelmeyer/Getty Images Entertainment/Getty Images
I'm all about people doing whatever it is that they want sexually. Want to have sex with a million people and never get married? Go for it! Want to have sex with just a few people? Go for it! Want to save sex for marriage? Go for it!! Seriously. Whatever you do, it's your prerogative. That being said, actually choosing to save yourself for marriage sounds like it would be pretty challenging. Don't believe me? Read Ciara's quote about not having sex before marriage from a recent Cosmopolitan interview and take her word for it.
Now, before I share the quote with you, let me be totally clear here. If you want to wait to have sex until after you get married, that's exactly what you should do. Ciara wanted to wait to have sex before marrying her now-husband Russell Wilson and she doesn't seem to have any regrets about it.
In fact, by being so public about what it was like to wait, Ciara is showing people around the world that saving themselves for marriage is a totally viable option. But she does acknowledge that it's not always the easiest road to take.
"It definitely was a huge challenge because
 I look at my husband and go, 'Ooh!'" she told the magazine of her decision to wait. "I'm human...we're human! But the cool thing about us is that we're equally yoked." (Cosmopolitan explains that "yoked" is "biblical speak for being fully connected on a spiritual level.")
The key to making the process of waiting a little less treacherous was falling in love with Wilson, who shares her same beliefs. "It makes a difference when you share the same views," she continued to Cosmopolitan. "We were able 
to be lock and step from day one."
Cosmopolitan reports that Ciara first started dating Wilson after she ended things with her ex and the father of her child, Future, back in 2014. She told Cosmopolitan that after her split, she sat down and made a list of what she was looking for in her next partner. Shortly after, she met the man who checked all of her boxes in the form of Russell Wilson.
Of course, none of us know what was actually going on behind closed doors, but, according to the new couple, they really did wait until their special day to do it for the first time. And they were definitely not shy about telling all of their fans how awesome it was the morning after their 2016 wedding. They even took to Snapchat to share the steamy details with their fans.
For those of you worried about what the haters will say if you choose to abstain, Ciara (who has some haters of her own) has some great advice. "When someone comes for you and you didn't send for them, you keep your eye on the prize," she told Cosmopolitan. "I know what my mission is. I know what I'm hoping for and working hard for every day. And that's my focus. I'm not going to let people steal my joy. I move on. New day, new opportunity, new energy, let's go."
Once again, if celibacy isn't for you, that's cool! But, if it's what you're trying to do, Ciara is a great role model to look towards.
Check out the "Best of Elite Daily" stream in the Bustle App for more stories just like this!