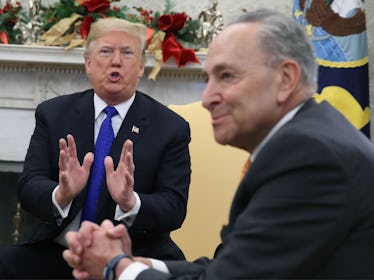 Here's What It'll Take To End The Government Shutdown, According To Chuck Schumer
Mark Wilson/Getty Images News/Getty Images
We are now *checks watch* close to one day since the government partially shut down, which stems from a bitter fight between lawmakers regarding funding for President Trump's long-promised wall along the U.S. southern border. While the president has warned of a "very long" shut down if he isn't given the billions of dollars he wants for the proposed wall, Senate Minority Leader Chuck Schumer told Trump that the only way to end the shut down is by abandoning his wall. So get cozy and settle in, because this might take a while. Elite Daily reached out to Schumer's representatives and the White House for comment on the remark, but did not hear back by the time of publication.
Speaking almost directly to Trump during a Senate floor speech on Dec. 22, Schumer blasted him for a "destructive two-week temper tantrum" that led to a partial shut down over an "expensive and ineffective" border wall. He then called on the president to end his fight for the wall, telling Trump that his request for $5 billion will never pass in the Senate — not "today, next week or next year." The only way to reopen the government, Schumer says, is if Trump "[abandons] the wall, plain and simple."
"The Senate's not interested in swindling the American taxpayer for an unnecessary and wasteful policy," Schumer added. "The wall is President Trump's bone to the hard-right people ... It's no way to spend $5 billion." The White House did not immediately respond to Elite Daily's request for additional comment on the subject.
Here's a look at some of his comments:
Oof. Obviously, this whole debacle is getting increasingly heated as negotiations over the funding continue. Democrats have refused Trump's request for $5 billion, offering just over $1 billion for wall barriers and fencing, which hasn't gone over so well. The President has repeatedly stressed the importance of border security — like on Dec. 22, when he tweeted about needing the wall to fend off "Gangs, Drugs, Human Trafficking & more" — and has threatened to keep the government partially shut down for as long as it takes to get his requested budget.
Earlier, in a video tweeted on Dec. 21, just hours before the partial shutdown, Trump said, "We're going to have a shutdown. There's nothing we can do about that because we need the Democrats to give us their votes."
He also repeatedly threatened to shut the government down, even saying he would be "proud" to do so in the name of border security, during a televised Dec. 11 meeting with Schumer and House Minority Leader Nancy Pelosi. After a tense back-and-forth between the trio over whether the House or Senate would pass his spending bill and who would take the blame in the event that a shut down occurred, Trump ultimately declared, "I will take the mantle. I will be the one shut it down." Although, in his Dec. 21 video, the President referred to the partial shutdown as "a Democrat shutdown." The White House did no immediately respond to Elite Daily's request for comment on the President's video.
Hopefully, some kind of agreement is reached sooner than later, but if I were you, IDK if I'd hold my breath. You'll have to wait and see.