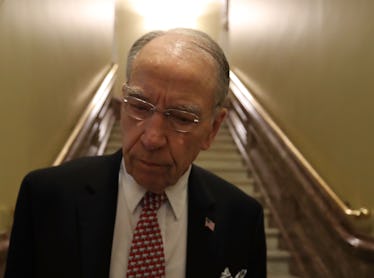 A GOP Senator Is Calling For An Investigation Into One Of Brett Kavanaugh's Accusers
Mark Wilson/Getty Images News/Getty Images
Brett Kavanaugh was confirmed to the Supreme Court in October, but the story isn't over yet. During his confirmation hearings, multiple women came forward and accused the SCOTUS nominee of sexual assault and misconduct, which Kavanaugh denied. Representatives for Kavanaugh did not reply to Elite Daily's request for additional comment. Despite the allegations, Senate Republicans initially pushed back against a proposed investigation into the sexual assault allegations leveled against Kavanaugh, before finally allowing a limited investigation to move forward. But now, Committee Chairman Chuck Grassley called for Julie Swetnick to be investigated, along with her lawyer Michael Avenatti, after her accusations against Brett Kavanaugh. Elite Daily reached out to Avenatti for comment on the matter, but did not immediately hear back.
Grassley sent a letter to Attorney General Jeff Sessions and FBI Director Christopher Wray on Oct. 25, referring Swetnick and Avenatti for investigation. In the letter, Grassley said he would like an investigation to be done over possible "false statements they made to Committee" during the investigation into Kavanaugh.
Avenatti responded to Grassley's request in an Oct. 25 tweet, stating that he and his client "welcome the investigation." He wrote,
It is ironic that Senator Grassley now is interested in investigations. He didn't care when it came to putting a man on the SCOTUS for life. We welcome the investigation as now we can finally get to the bottom of Judge Kavanaugh's lies and conduct. Let the truth be known.
Swetnick was one of the three women who came forward to accuse Kavanaugh of sexual misconduct, according to a September report published by The Guardian. Kavanaugh has denied all the claims, saying in a statement after Swetnick's allegation, "This is ridiculous and from the Twilight Zone. I don't know who this is and this never happened." Representatives of Kavanaugh did not immediately reply to Elite Daily's request for comment on the multiple allegations, including Swetnick's.
In September, Avenatti made his client's allegations public via a three-page sworn statement posted on Twitter. In her statement, Swetnick claims to have met Kavanaugh in the 1980s and allegedly witnessed inappropriate behavior which, included allegedly attempting to remove women's clothing without consent, allegedly grabbing women, and allegedly verbally abusing them. She also claimed to have witnessed Kavanaugh and others allegedly get girls drunk with the purpose of sexually assaulting them. Representatives of Kavanaugh did not reply to Elite Daily's request for comment on Swetnick's allegations.
Part of Swetnick's statement read,
I observed Brett Kavanaugh drink excessively at these parties and engage in abusive and physically aggressive behaviour towards girls, including pressing girls against him without their consent, 'grinding' against girls and and attempting to remove or shift girls clothing to expose private body parts. I likewise observed him be verbally abusive towards girls by making crude sexual comments to them that were designed to demean, humiliate, and embarrass them.
Despite Swetnick's allegations, she was not contacted by the FBI as part of the investigation into Kavanaugh, according to USA Today. On Oct. 1, Avenatti posted his client's statement for a second time and said it's "outrageous" that Swetnick hasn't been contacted by the FBI. He wrote.
It is outrageous that my client has not been contacted by the FBI because Trump is instructing them not to. He is trying to ram through a nomination by purposely preventing the truth from being known.
Beyond Swetnick's allegations, two other women, Christine Blasey Ford and Deborah Ramirez, came forward with public allegations against Kavanaugh. Ford, a research psychologist from California, alleged that Kavanaugh had sexually assaulted and attempted to rape her when the two were high school students in the 1980s, while Ramirez alleged that Kavanaugh had exposed himself to her at a part in college around the same time period. Kavanaugh denied both allegations, and representatives for him did not reply to Elite Daily's request for comment on either claim.
On Sept. 27, Ford testified before the Senate Judiciary Committee about her claims, describing both the alleged assault and its aftermath. Ford also requested an FBI investigation into her claims. However, neither Swetnick nor Ramirez were reportedly invited to testify. Swetnick was not interviewed in the subsequent limited investigation into Ford's claims — which was carried out in one week, after much opposition from Senate Republicans.
With Kavanaugh already confirmed to the Supreme Court on Oct. 2, it's hard to say what might come from any investigation into Swetnick or her claims now. Time will tell.