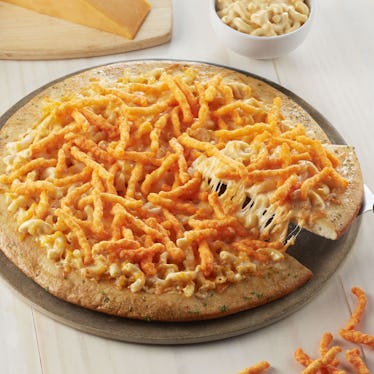 Chuck E. Cheese's New Pizza Topped With Cheetos & Mac 'N' Cheese Will Give You So Much FOMO
There's literally nothing I enjoyed more as a kid than spending a night at Chuck E. Cheese's with my family and friends. I remember watching the robotic band play as we devoured savory pizza before heading to the arcade area to collect as many tickets as humanly possible. It was a childhood dream come true, and to be completely honest, I kind of miss it. After finding out about Chuck E. Cheese's Mac-Cheesy Pizza, I miss it even more.
You read that correctly: Chuck E. Cheese's newest pizza is topped with gooey mac 'n' cheese and crunchy, delicious Cheetos. It's every cheese lover's dream come true, and I'm seriously craving a slice (or five). If this pizza was a menu option when I was a kid, you better believe I'd order a pie — but since it's available now, I'll have to relive my childhood with some friends and sit down for a Chuck E. Cheese's dinner like the good old days.
Obviously, a pizza with these kind of toppings looks absolutely gorgeous — but let's dive into details about the nostalgic dish. A press release about the dreamy menu item says the 'za features elbow macaroni mixed with creamy cheese sauce that's smothered in melted Colby and 100 percent whole milk mozzarella cheese. (My mouth is watering, too.) We can't forget about the most important part: the Cheetos. That's right, after the layer of mac 'n' cheese goodness, there's a pile of crunchy Cheetos ready to be eaten. Can you imagine biting into a slice? My cheese-loving heart is so full and I haven't even given it a taste yet.
Before you grab your keys and drive to your closest Chuck E. Cheese for a pie, you should know a few more things. I'll start with the good news, though: the Cheetos Mac-Cheesy Pizza is being served in all locations, which definitely means it's time for another visit. However, the savory pie will only be available for a limited time (through the end of the year, to be exact). I know, I know, this means you'll have to round up the troops for a nostalgic dinner trip ASAP so you can indulge in the cheesiness before it's all gone. I promise you that it'll be worth it, though. Plus, the pie is reasonably priced at $13.99 for a medium, $16.99 for a large, and $19.99 for an extra large. That's a lot less than what you'd spend on a typical night out with friends, right?
Now that we've talked about logistics, let's get back to the good stuff: the cheese (and the Cheetos, duh). According to the press release about the pie, Chef Gregory Casale, the senior director of culinary innovation for CEC Entertainment, Inc., is just as excited about the combination as we are.
He said, "Most people don't realize that Cheetos have been around for nearly 70 years! Combine them all and the new Cheetos Mac-Cheesy Pizza is sure to be a family favorite."
I couldn't agree more.
Apparently, Tom Leverton, the CEO of CEC Entertainment Inc., is just as excited. He commented on the new dish saying, "We're excited to add Cheetos atop our Mac-Cheesy Pizza for even more crunch, flavor and fun. Chuck E. Cheese's and PepsiCo have had a longstanding partnership, and this is a unique opportunity to align our brands and signature flavors for this one-of-a-kind pizza."
Again, I agree. This is a cheesy collaboration that you definitely don't want to miss out on. Next time you're trying to figure out what to do with your Friday night, get some friends together for a Chuck E. Cheese's dinner. There's nothing like nostalgia (and massive amounts of cheese) to kick off your weekend.
Check out the entire Gen Why series and other videos on Facebook and the Bustle app across Apple TV, Roku, and Amazon Fire TV.