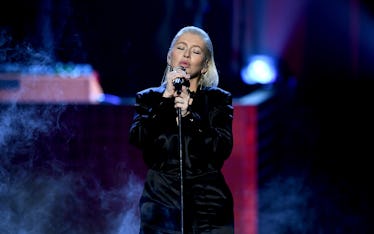 Christina Aguilera Is Going On Tour After Almost 10 Years & I'm So Excited
Kevin Winter/Getty Images Entertainment/Getty Images
Watch out, everyone! Christina Aguilera is on the loose and coming to a city near you very soon! Yep, that's right. Aguilera just announced that she's going on tour to promote her brand new album Liberation. It's been a full decade since the singer went on tour and now fans are going wild over the possibility of seeing her live again! So, let's delve into the details of Christina Aguilera's Liberation tour.
As announced on Wednesday, May 9, Aguilera will be setting off on a rigorous tour that boasts 24 performances all across North America. Aguilera will kick off her tour on September 25 in Miami and will make stops in New York, Boston, Detroit, Las Vegas, and more.
This is the first tour Aguilera will embark on in over a decade. The last time she traveled city to city was during her Back to Basics tour from 2006 to 2008. So, Aguilera is probably out of practice at this point. And by that, I mean that touring seems like a tough job, so she's probably got her work cut out for her!
But she seems totally up to it! She's a pro, after all, so she's down to do what it takes to make her fans happy.
Aguilera shared the exciting news via Twitter:
In a recent interview with Billboard, the singer explained that she's excited to jump back into the lifestyle she knows and loves, even if it means uprooting her kids Max, 10, and Summer, 3:
Touring is so frightening to me, because I am a mom first. It's part of why I stayed in the position I was at The Voice. It's easy to get comfortable and cushy in the same place and not have to worry about uprooting your kids. I've been putting myself on the back burner ... but it needs to happen. I'm looking forward to getting back out and actually showing my kids what Mommy really does!
That's an awesome outlook to have and her kids will certainly enjoy seeing what she's so legendary for: her high-energy performances and incredible voice! Plus, the fans will bring all the excitement!
They already are, actually. They're tweeting non-stop:
So cute! And, already, fans are demanding that Aguilera add more to dates to the tour:
It's so obvious how much Aguilera's fans want to see her perform all her hits live. Can't blame them, though. It's been a full 10 years, so of course they're excited! I'm excited for them!
Aguilera's upcoming album, entitled Liberation, is slated to be released on June 15. It marks first studio album Aguilera has recorded since Lotus, which was released in 2012.
The singer debuted the album's lead single "Accelerate" on May 3 to mixed reviews. The song, with its drum samples and hip hop influences, is a bit of a deviation from what most people know Aguilera for. It was produced by Kanye West and features Ty Dolla $ign and 2 Chainz.
The video for "Accelerate" was also released in early May 2018 and featured Aguilera taking on a sexier look and persona than we have seen in recent years. In fact, it's kind of a call back to her Stripped era from 15 years ago, which was super controversial at the time. But that was ages ago and even casual fans have warmed to the Aguilera of today, who is more mature and comfortable in her own skin. Now, the world can just sit back and take in all the talent that Aguilera has to offer.
Check out the video:
I don't know how she does it, but with each new project, Aguilera is proving that she's got so much more to give. Can't wait to see what kind of music she drops next.