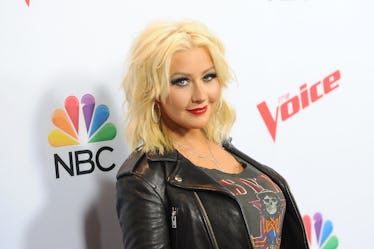 Christina Aguilera Gushed Over Blake Shelton & Gwen Stefani's Relationship & It's So Cute
Angela Weiss/Getty Images Entertainment/Getty Images
Christina Aguilera has been saying quite a lot about her time on The Voice lately. The 37-year-old singer has made a slew of not-so-nice comments about the TV talent show, but there are some positives, according to Aguilera. Like the fact that Blake Shelton found love with Gwen Stefani on set, for example. Actually, Christina Aguilera's comments on Blake Shelton and Gwen Stefani are super cute!
In a brand new interview with W Magazine, Aguilera spoke at length about her time on The Voice. While she previously slammed the show in an interview with Billboard, calling it an "energy sucker" and a "churning hamster wheel," Aguilera explained to W Magazine that she was a "fighter" while on set:
I fought for a long time to get two females in the chairs. And, for a long time, I was just told it wasn't the demographic. But just know that I was a fighter behind the scenes.
Aguilera has always been about female empowerment, so it's great to know that she was gunning for that behind the scenes on The Voice as well.
In the very same interview, Aguilera also put to bed any speculation that she and fellow Voice coach, Gwen Stefani, were at odds while filming:
No, it never had anything to do with any one person at all. And I actually think it's really cute Blake and Gwen found love in that chaotic environment.
Aw, so adorable! For those of you not in the know, Shelton and Stefani have been attached at the hip since 2016, when they made a transition from a professional relationship to a romantic one.
Also, it's great to hear that Aguilera's time on the show wasn't clouded by feuds or by anyone's ego. Sounds like The Voice just wasn't her thing, which is totally understandable.
As for her time on The Voice, which lasted from 2011 to 2016, Aguilera says that she stopped believing in the mission and the vision of the show and simply couldn't continue:
I signed on to a show where the blind audition element was something interesting, something genuine. After a while, though, you start to see that everyone is good-looking. It wasn't a comfortable place for me to be, where I'm just part of a money-making machine. When I stop believing in something, then it's like, What am I doing here?
How unfortunate that she ended up feeling that way. She also said that she did the show for so long for her kids:
I think I did choose to, no pun intended, take a chair for so long and do something very commercial for my little ones. But at a certain point I felt like I'm not even doing them a service by cheating myself and what I'm here to do. They should be seeing Mommy live her best life.
Aguilera is a mom to two beautiful children. Her son, Max, is 10 years old and her daughter, Summer, is just 3 years old. Aguilera has moved on and is doing bigger and better things.
Her forthcoming album Liberation is set for release in mid-June. She's already released three singles from the album. The songs "Accelerate" and "Twice" were released in the early days of May 2018. And on Wednesday, May 16, Aguilera released an inspiring collaboration with Demi Lovato called "Fall in Line".
And the singer just announced an exciting tour of North America. Plus she's all set to perform alongside Lovato at the 2018 Billboard Music Awards. So, it's safe to say that Aguilera is super busy and ready to leave the reality show stuff behind her!