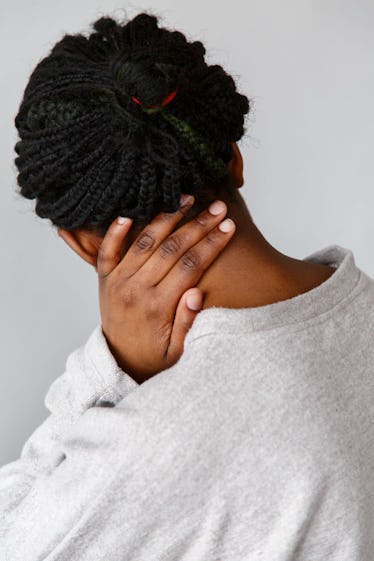 A Black Student's Family Says She Was Sent Home From School Because Of Her Braided Hairstyle
T-REX & Flower/Stocksy
On Monday, Aug. 20, news broke that Christ The King Elementary School reportedly sent a black student home for wearing box braids — a style that is not uncommon for African Americans to wear, but typically requires extensions to be braided into natural hair. According to the family of 11-year-old student Faith Fennidy, the school, located in Terrytown, Louisiana, claimed her hairstyle was not "natural" and goes against the school's hair policy. Elite Daily reached out to Christ The King Parish School for comment on the incident, but did not hear back by the time of publication.
However, through a statement, RaeNell Billiot Houston, the superintendent for the Archdiocese of New Orleans' Office of Catholic Schools, seems to be standing by the school's policy:
Archdiocese of New Orleans schools develop policies appropriate for their respective schools. Christ the King Elementary School has a policy that states: "Boys and Girls: Only the students' natural hair is permitted."
This policy was communicated to all parents during the summer and again before the first day of school, and was applied to all students. Furthermore, the school leadership worked with families as needed to ensure compliance.
The superintendent also added that the school "[remains] committed to being a welcoming school community that celebrates our unity and diversity." This hasn't stopped the public from being outraged over the matter.
Shortly after the incident took place, Faith's brother, Steven Evergreen Fennidy, uploaded a video to Facebook that appears to feature his sister in tears after she was asked to leave school property because of her hair. The video has since gained more than 2.5 million views to date and has more than 60,000 shares on Facebook. Writer Shaun King, rapper T.I., and reality TV personality Tokyo Vanity, who says Faith is her niece, have all also shared the video to their social media pages.
According to Christ The King Parish School's handbook, "only the student's natural hair is permitted. Extensions, wigs, hair pieces of any kind are not allowed." The school also warns that any student who does not comply to the rules will face "severe consequences, such as suspension from school until the requirements are met."
However, in his Facebook post, Evergreen Fennidy claims that the school apparently "sneakily" added the new hair extension policy over the summer. Prior to that, he said Faith had attended the school for two years while wearing extensions, never getting into any trouble.
According to local news station WGNO, school officials claim they informed Faith's family that her hairstyle did not adhere to the school's new policy. They also claim Faith's mother "agreed to change her child's hair in order to comply with the policy." Superintendent Houston continued, "She made an appointment with a hair stylist to do so. The child had her hair re-done on Friday of last week and reported to school today. The new hair style was still not in compliance with the new hairstyle policy. At that point the parent made the decision to remove her child from the school."
On the school's website, Christ The King claims to provide "Catholic education in a nurturing family community," and also adds that "regardless of race, cultural heritage, or gender [each child] will be motivated to develop a positive self-image." According to his post, however, Evergreen Fennidy doesn't believe the school is taking all of its students' needs into consideration with this rule.
"Extensions make the hair easier to maintain," he wrote on Facebook. "It allows my sister to have access to the swimming pool without having to get her hair re-done every night. How do you make a policy without even having a discussion. It's because you don't care and it's just one more barrier to entry for black people. This decision is going to affect black children more than white children."
In an interview with Fashionista, holistic braid stylist Tamara Albertini explained the importance and significance of braids in the black community. "Our hair has been the most controversial and socially unacceptable image," Albertini said. "We don't just voice our concerns and opinions because we are sensitive. Our history shows the damage it has caused us with self imagery and acceptance struggles."
She also added,
"When other cultures are respected and acknowledged for their traditions and we aren't, it becomes a deeper issue that needs to be spoken about. It must begin with those considered the dominant culture to take accountability, be aware of your actions, and not ignore the voice of the black community."
Despite the superintendent's assertion that Christ The King is "a welcoming school community that celebrates our unity and diversity," Faith's mother, Montrelle Fennidy, is not convinced. She told NOLA.com that she is currently looking for a new school for her daughter to attend.
Hopefully, Faith is able to find a school that will accept her just as she is — braids and all — in the near future.