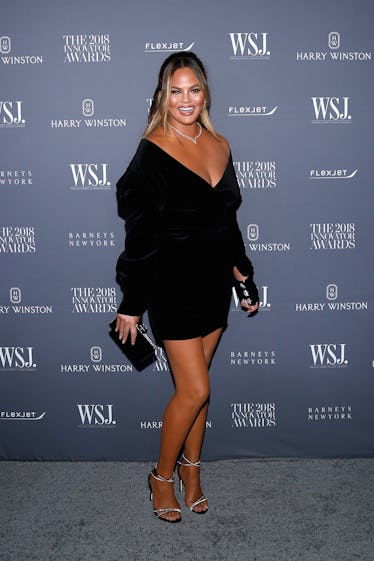 This Instagram Of Chrissy Teigen Burning Her Thanksgiving Pie Is Relatable AF
Lars Niki/Getty Images Entertainment/Getty Images
Timing your Thanksgiving spread perfectly can be a tough act to pull off for even the most seasoned cook. In between juggling a giant turkey, stuffing, and a multitude of desserts, something's bound to go wrong, and Chrissy Teigen, aka the most relatable of celebrities, took to Instagram to document one such mishap. Chrissy Teigen's Thanksgiving 2018 Instagram is proof that yes, even professionals screw up sometimes, and the best way to deal with spilled milk (or in this case, burnt pie) is by laughing about it.
Now, it's no secret that the former Lip Sync Battle host knows a thing or two about cooking. She's released not one, but two different cookbooks showing off her prowess in the kitchen, but that didn't stop her from experiencing a baking disaster right before Thanksgiving. On Wednesday, Nov. 22, the authoress of Cravings: Hungry For More took to her Instagram Story to share photos and videos of her prepping for her Turkey Day spread, which included cooking turkey and gravy in a big pot.
For dessert, she had two homemade sweet potato pies covered in a crumble mixture that looked tasty AF, TBH. Teigen snapped a photo of the confections after she placed them in the oven to cook — and that's when things went seriously south.
Fans might have been curious as to why the former Sports Illustrated model didn't share a shot of the finished product, and Teigen took to her Instagram later that night to explain why.
"In case you are wondering why I didn't put my finished pie on my instastory," she wrote, along with a photo of her former masterpiece now burned to a crisp. There's charred crumble and burnt pie crust, and it basically looks like someone forgot about it in the oven.
Teigen didn't elaborate on exactly what happened — she could have forgotten about it in the oven while getting into the holiday spirit of things with husband John Legend and her daughter Luna, or simply miscalculated the cooking time — but the struggle is real, and oh-so relatable.
Fans who were experiencing the same situation in their own kitchens were feeling the photo on an emotional level, and they took to the photo's comments section to say "same" on the Thanksgiving cooking struggles. Others advised her to scrape the charred bits off and cover it with cool whip, because that apparently saves everything.
One user wrote, "All that burnt topping says is that you were paying too much attention to your kids... it's all good!!" while another fan reminded Teigen, "Remember Julia Child said never apologize for a kitchen disaster. They happen to everyone. Lol."
Luckily, it looks like the Teigen-Legend household wasn't short in the dessert department, as the mom-of-two also took to Instagram to share a video of her generously layering her hot chocolate and marshmallows with dollops of whipped cream.
It looks like Teigen was able to take the cooking disaster in stride and even whip up another sweet treat for her and her daughter's sugar cravings. From the sounds of things, two-year-old Luna was a big fan of the festive sips and even wanted to get in on the whipped cream action, as she could be heard exclaiming in the background, "I want to do it!"
Hey, everybody has off days, but at least Chrissy knows how to laugh it off.