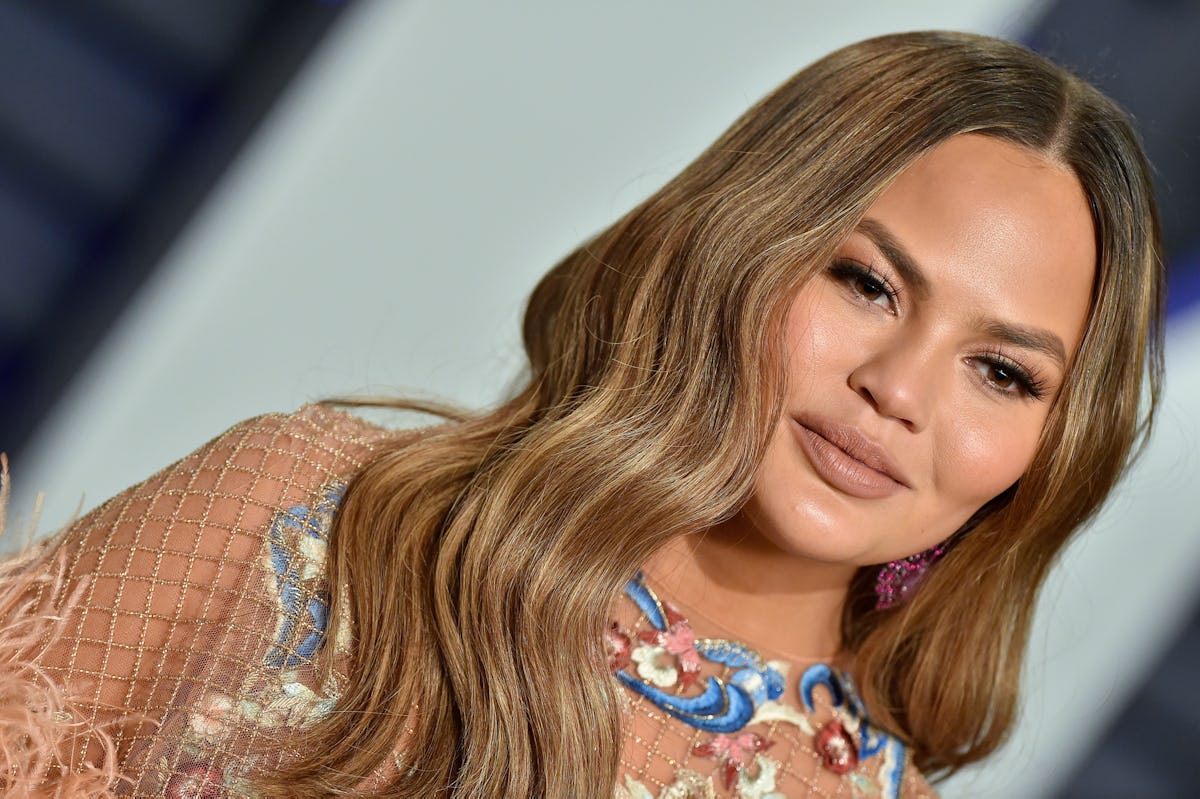 Chrissy Teigen Got A Tattoo In Honor Of Baby Jack That's So, So Beautiful
Axelle/Bauer-Griffin/FilmMagic/Getty Images
Just a few weeks after Chrissy Teigen revealed she had unfortunately went through pregnancy complications and lost her baby, the star got a special tribute for her late son to forever remember him. Prepare to get emotional because Chrissy Teigen's tattoo for baby Jack is so beautiful. The Cravings author shared a picture of her latest ink on Twitter, where she received an overflowing amount of support from fans and other parents.
Teigen was transparent with fans all throughout her pregnancy journey, so when she had a pregnancy loss, she immediately updated her followers to tell them the sad news. "We are shocked and in the kind of deep pain you only hear about, the kind of pain we've never felt before," Teigen wrote in a Sept. 30 Instagram. The star explained she went through complications that led to her needing blood transfusions, but in the end, "it just wasn't enough."
In that same Instagram, Teigen said she and John Legend were going to name the baby Jack. "We never decide on our babies' names until the last possible moment after they're born, just before we leave the hospital. But we, for some reason, had started to call this little guy in my belly Jack. So he will always be Jack to us. Jack worked so hard to be a part of our little family, and he will be, forever," she shared.
Now a month later, Teigen has revealed she got a tattoo in honor of the baby she lost. The ink is located on her wrist and shows Jack's name written in delicate script handwriting.
In 2019, Teigen also got a few tattoos dedicated to her family. One listed the birthdays of her dad Ron Teigen Sr., mom Vilailuck Teigen, husband John Legend, and kids Luna and Miles, while the other one read "John Luna Miles."
Teigen's followers thought her latest addition was perfect. Some of her fans were even inspired to share their own pregnancy stories and tattoos for their late children.
"As a fellow stillbirth mama, I want to thank you for being open about your loss and grieving. When I lost my son (also a Jack) 11 years ago at 34 wks, I was so sad and so alone, thinking no one understood. My heart aches for you. It's a very singular grief. Thank you again," someone wrote.
"I too have a tattoo in memory of my son. Mine is over my heart where the pain was so strong. Always remember never forget," another person commented.
Teigen is an inspiration to many people, and her willingness to be open about such a difficult topic is so appreciated.