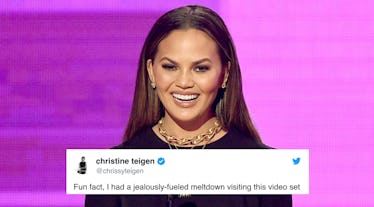 Chrissy Teigen Got Real About Her Jealous Meltdown On John Legend's Video Set & LOL
Kevin Winter/Getty Images Entertainment/Getty Images
As usual, Chrissy Teigen is on a social media roll. On the night of July 29, fans were gifted with a hilarious first-hand account from Teigen about freaking out in a fit of jealousy on the set of John Legend's "Green Light" music video. Teigen explains she was incredibly jealous of a woman actress who seemed to be flirting with her now husband and it sent her into a tailspin. Chrissy Teigen's story about her jealous meltdown over John Legend is so extra in the best way, reminding us all how totally relatable and real this woman truly is.
Here's the setup: The year is 2008. John Legend and Andre 3000 are collaborating on their song "Green Light" and shooting the music video which includes lots of gorgeous women. Teigen was visiting the set when a bunch of her and Legend's friends started to get her riled up. Teigen explains they kept talking about how beautiful some of the women were, prompting her to notice what she felt was flirtatious behavior between one woman and her boo. According to Teigen, she "made an asshole" out of herself and threw a pretty epic tantrum, ultimately storming off the set.
Teigen got the memory train a-rollin' when she shared a tweet about the "Green Light" music video's 10 year anniversary. She wrote, "Fun fact, I had a jealously-fueled meltdown visiting this video set and made an asshole out of myself to a large group of people."
Of course, fans were dying for specifics. So, Teigen conferred with Legend to help nail down the details and then gave us this epic play-by-play.
First, Teigen explains how she can clearly see now that everyone was just trying to get a rise out of her. She explained, "it began with our friends (john's managers and co-writers and a couple others) talking about how BEAAAAAAUUUUTIFUL some of the women were..." adding, "THEY WERE DEFINITELY RILING ME UP AND GETTING A KICK OUT OF IT."
Teigen says she watched on the monitor as Legend and a woman seemed to be flirting, which made her even more aggravated. She reminded fans she and Legend met on a music video set themselves (for his song "Stereo") so she knows "how this sh*t works."
Teigen explains she invented an entire narrative in her head over what the woman and Legend could possibly be talking about, imagining them deciding they wanted to "bone." (Her words, not mine.) After getting herself all worked up, Teigen ultimately fled the set in tears to get herself a hotel room. Everyone was shocked. She said, "I lost it. Anger turned to sobbing turned to fleeing the set and getting a hotel room. The director (ALAN FERGUSON!) was baffled. Everyone was."
God bless her.
Today, Teigen says she's a lot "better now" and not nearly as jealous as her 22-year-old self was 10 years ago. Still, don't get in this mama bear's way. "DON'T TEST ME," she says.
Teigen also admitted she never liked "Green Light," but not because of the jealously incident. Instead, Teigen said she just thought the tune "was corny," adding, "LOVE YOU JOHNNY!"
Honestly, the worst thing I could imagine possibly doing is trying to get in the middle of Teigen and Legend's love. Today, they have been married for almost five years and are the parents to two perfect children, Luna and Miles.
For funsies, here's a look at their "Stereo" video together and the music video for "Green Light." I encourage you to watch it imagining a stressed-out Teigen behind the scenes.