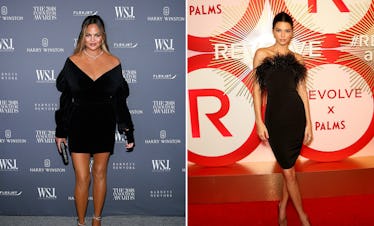 Chrissy Teigen Shouted Out Kendall Jenner While Presenting At The People's Choice Awards
Lars Niki/Gabe Ginsberg/Getty Images Entertainment/Getty Images
Now that we're officially well into November, there's so much to be excited for. Thanksgiving, yes. Christmas, of course. But there's something that's even closer than our favorite holidays, and that's E!'s 2018 People's Choice Awards, you guys. And anybody who binge watches shows or is the first in line to the popcorn stand at the movie theater knows that this is a pretty big event. This year we saw a nice hefty turnout of celebs, but there was one star in particular that many fans were wondering about, and that was Chrissy Teigen. What were her duties for the night? Our girl did the damn thing as a presenter, and let me tell you that Chrissy Teigen's shoutout to Kendall Jenner at the 2018 People's Choice Awards was literally too perfect for words.
On Wednesday, Nov. 7, Chrissy Teigen and John Legend attended the WSJ Magazine 2018 Innovator Awards in New York, and spoke about how they were preparing for their appearance at the 2018 People's Choice Awards. It was previously announced that Teigen's husband would be performing as a part of his presenter duties, and would be honoring the founder and executive director of the Equal Justice Initiative, Bryan Stevenson, with the People's Champion Award.
"I'm so excited. I'm going to present Bryan Stevenson, who is somebody I've read," Legend told E! News during the WSJ Innovator Awards. "I've spent a lot of time with and just admire his work and everything he's done for the county. I'm excited to honor him."
It's pretty amazing that John Legend presented, but many fans of Teigen were hoping that she, too, would have a role. Fortunately for us, she did! Teigen presented at the People's Choice Awards as well, awarding the trophy for — wait for it — Reality Show of 2018, which couldn't be more fitting.
After Legend told E! News his duties for the night, Teigen chimed in, saying, "And then I'm the opposite. I'm doing Best Reality. So, I cannot wait. I watch all the shows, I love it," she said. "I can't wait to just see everybody in that room, too. I'm so excited."
Girl, we were excited for you.
As she walked out to present, Teigen gave Kendall Jenner, who was nominated as part of Keeping Up With The Kardashians, a shout-out, saying, "That was my catwalk! Hey, Kendall, did I do OK?"
I think Kendall would agree alongside the work that Teigen nailed it.
Of course, our girls from KUWTK won the Best Reality award, but I didn't need to tell you that, did I? They were pitted against some good competition (I see you, Vanderpump Rules), but ultimately won out in true Kardashian form.
Teigen aside, let's talk about the amazing nominees and presenters, because they are chock full of talent. I mean, just looking at The 2018 People's Choice Award nominations show you just how stiff this competition is, with the winners all chosen by all of the people who voted.
While The People's Choice Awards previously aired on CBS, it is now being aired on E!, and the network said it would have new "E! flare added in for good measure." I really don't care all that much about flare, TBH, I just wanted a damn good show — but who am I to judge?
Anyway, there were a whopping 43 categories with 12 nominees to each category — meaning that there were hundreds of nominees, all dressed to-the-nines, patiently waiting to see who would take home the well-deserved trophy. And they did not disappoint.