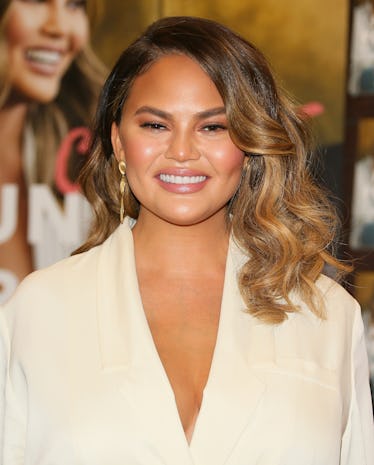 Chrissy Teigen Just Clapped Back At Trolls Judging Miles' Helmet In The Most Epic Way
Jean Baptiste Lacroix/Getty Images Entertainment/Getty Images
Chrissy Teigen doesn't play around when it comes to people judging her parenting skills. The entrepreneur recently tweeted a series of photos of her 6-month-old son Miles in a corrective helmet and received a ton of backlash for it. But as you know, Teigen doesn't stand for trolling. Chrissy Teigen's response to haters judging Miles' helmet is so informative, mature, and important. And that just goes to show what a fierce mama bear she is!
In a tweet posted on Tuesday, Dec. 4, Teigen explained why she and her husband, John Legend, chose a corrective helmet for their son in addition to using other methods to reshape his head.
"Good morning trolls! Just a friendly reminder that you do not indeed know absolutely everything," Teigen wrote in her first tweet. "Miles has been seeing a physiotherapist - we didn't just go straight to helmet. We tried muscle work and will continue. Also your flat headed kid turned out fine yes yes yes I agree."
In a follow-up tweet, Teigen said that she posted photos of her son in his corrective helmet so no one would wonder whether or not he was okay.
"Just didn't want you guys to see pictures and wonder," Teigen wrote. "Not promoting anything. Just sharing our story! Thank you back to your bridge now."
So, Teigen was very clear about why she and Legend decided to go the route they did in terms of Miles' corrective helmet. Not that anyone needs to know their reasons, but Teigen obviously felt the need to explain.
You can take a look at Teigen's response to the haters down below:
In Teigen's original tweet, which was posted on Monday, Dec. 3, she revealed that Miles was being fitted for his helmet. And that tweet started all the mommy-shaming comments that Teigen was prompted to address on Tuesday, Dec. 4.
In her Dec. 3 tweet, Tiegen wrote, "baby miles getting fitted for a little helmet today for his adorable slightly misshapen head. so if you see pictures, don't feel bad for him because he's just fixing his flat and honestly he's probably gonna be even cuter with it somehow."
And then she posted some unbelievably adorable photos of baby Miles. You can check them out down below:
While Teigen and so many others found the photos endearing, other folks seemed to think Teigen was promoting something she shouldn't or showing off in a way that maybe rubbed them the wrong way. But that didn't bother Teigen one bit as is evidenced by her tweets. Her realness garnered a lot of support from her followers, especially those who also have babies with corrective helmets.
"I love you for this! My eldest had a helmet and I spent years beating myself up over it," one fan wrote. "I felt like I'd failed as a parent for not noticing it sooner. But we got the helmet and his head is so much better. Thank you for being so open about this."
And that's just one of many comments like this. Teigen is obviously doing some very good and inspiring work by being so open about raising her kids. Amazing stuff!