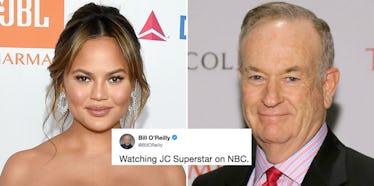 Chrissy Teigen Trolled Bill O'Reilly's 'Jesus Christ Superstar' Tweet & It's Hilarious
Nicholas Hunt/Neilson Barnard/Getty Images/Twitter
If you missed the broadcast of Jesus Christ Superstar Live on Sunday, April 1, oh my, did you miss quite the damn show. As a theater kid, I can't imagine a live musical being done any better, and it deserves all the Emmys. John Legend also put anyone who doubted his casting to rest with his incredible performance, and Chrissy Teigen was there in Brooklyn at the live performance to support him. She was live-tweeting the whole thing, naturally, and one of her funniest tweets was a reaction to Bill O'Reilly. Chrissy Teigen's response to Bill O'Reilly's Jesus Christ Superstar tweet is a lesson in expert-level trolling.
Some context about Jesus Christ Superstar: The show is a rock opera about the last days of Jesus' life, except it's told from Judas' perspective. The original Broadway show was created as a concept album by Tim Rice and Andrew Lloyd Weber (you know, the guy who created Phantom of the Opera) in 1970 and then made its Broadway debut in 1971. Jesus Christ Superstar the film came out in 1973. Since it's a rock opera from the '70s, the show has always had an edgy aesthetic that takes the story of Jesus' death and places it into more modern contexts. The NBC iteration of the show was just as edgy and grunge as past performances, but it had a 2018 flare to it that made it all the more powerful. The costumes honestly looked like something Kanye West would design, and there were plenty of jokes on Twitter about the costumes making the cast look like millennial baristas from Williamsburg. Just about everyone but Jesus also had fake tattoos all over their bodies, and that's what O'Reilly chose to complain about in his tweet.
O'Reilly tweeted on April 1, "Watching JC Superstar on NBC. Who knew Jesus of Nazareth ran a tattoo parlor? Geez."
Chrissy Teigen quoted O'Reilly's tweet and said, "Yes the shop specializes in coverups that aren't 32 million dollars."
Twitter's reaction in a nutshell:
O'Reilly hasn't responded to Teigen's tweet, but honestly... what could he say to that? Elite Daily reached out to O'Reilly's team for comment in regard to Teigen's tweet.
Fans lost it over Teigen's tweet.
This has got to be one of my favorite Chrissy Teigen tweets of all time. Homegirl dragged him.
Teigen is of course referencing the settlement O'Reilly reportedly reached with Fox News legal analyst Lis Wiehl after she accused him of sexual harassment. The New York Times reported the $32 million settlement in October of 2017, noting that Fox News reportedly knew of the settlement before renewing O'Reilly's contract. O'Reilly was fired from FOX News on April 18, 2017, due to the accusations against him, but Fox's reported knowledge of the settlements and claims against him were not reported until October of 2017. 21st Century Fox, Fox's parent company, said in a statement on April 19, 2017, "After a thorough and careful review of the allegations, the company and Bill O'Reilly have agreed that Bill O'Reilly will not be returning to the Fox News Channel."
O'Reilly said in a statement on April 19,
Over the past 20 years at Fox News, I have been extremely proud to launch and lead one of the most successful news programs in history, which has consistently informed and entertained millions of Americans and significantly contributed to building Fox into the dominant news network in television. It is tremendously disheartening that we part ways due to completely unfounded claims. But that is the unfortunate reality many of us in the public eye must live with today. I will always look back on my time at Fox with great pride in the unprecedented success we achieved and with my deepest gratitude to all my dedicated viewers. I wish only the best for Fox News Channel.
O'Reilly's lawyer, Marc Kasowitz, also released a statement in defense of O'Reilly on April 19, 2017, that read,
It is outrageous that an allegation from an anonymous person about something that purportedly happened almost a decade ago is being treated as fact, especially where there is obviously an orchestrated campaign by activists and lawyers to destroy Mr. O'Reilly and enrich themselves through publicity driven donations.
O'Reilly denied the claims against him as well as the information The New York Times reported. He said the story was "a malicious smear" and claimed there was no truth to the claims from the multiple women accusing him of sexual misconduct. "I have been in the broadcast business for 43 years with 12 different companies," he said on Glenn Beck's radio show in response to the allegations, "and not one time was there any complaint filed against me. Nothing. Zero. So I think my track record speaks for itself."
Outside of this whole Bill O'Reilly dragging, Chrissy Teigen's tweets about Jesus Christ Superstar Live are classic Teigen.
She was mostly joking about the show, but she also tweeted a lot of support for her husband. The role of Jesus is one of the most famously difficult roles to sing in the Broadway world, so there was a lot of pressure on Legend to nail his performance. Jesus' biggest song in the show, "Gethesemane," happens just after the last supper and before Jesus is arrested and crucified. He's basically talking to God asking him why he has to die. It's intense AF, and it includes some really high notes that are difficult for literally anyone to hit.
Teigen tweeted her support for Legend after "Gethsemane" finished, saying he was really nervous about that song in particular.
She tweeted, "He won't say it but I know he was nervous for that song. So good!!" No shade here, but I think he did mess up one of the difficult notes in the song. But John Legend messing up is better than most people at their best, so all is forgiven. And also, the mess up was so small, it didn't distract from how fantastic the rest of the song went. So we good, John. We good.
Congrats on being a gr8 Jesus.