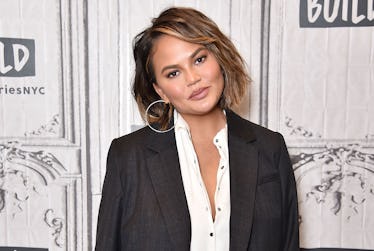 Chrissy Teigen Had The Most Sarcastic Clapback For A Fan Who Criticized Her Short Haircut
Theo Wargo/Getty Images Entertainment/Getty Images
Will everybody please stop being a dick to Chrissy Teigen?! It seems like the woman is having to clap back at a new troll every day. (Welcome to the life of being a woman on the internet.) Her responses get better and better every time, but I have to imagine she's getting really tired of all the trolls. Never the less, Chrissy Teigen's response to a fan criticizing her haircut shut things down real fast.
Teigen appeared on Watch What Happens LIVE on Sept. 24 and talked all about one of her most favorite topics: Real Housewives. She played a bunch of Real Housewives-themed games alongside actual housewife Kelly Dodd (of Real Housewives of Orange County). After the fun appearance, she posted a photo to her Instagram about the episode airing and, of course, someone in the comments section just had to comment on Teigen's appearance. As always, the trusty @CommentsByCelebs account documented it all.
A troll commented, "You look beautiful but you should grow your hair long again. Girls with round faces should not have short hair like that. It makes your face look huge. Been there....believe me....LONG HAIR."
Ew. Go away. Teigen held nothing back and responded, "@bcnjw Honestly wow thank you because when I wake up each morning I wonder what @bcnjw would do and then I try to make her happy so this was a mistake on my part."
Does anyone want to check in on that Instagram user to make sure she's OK after that?
This is coming off the heels of the 2018 Emmy Awards where Teigen was literally shutting down trolls on Twitter while she was in the audience during the live Emmy Awards broadcast.
A Twitter user tweeted during the show, "I'm asking this with the utmost respectful [sic], but is @chrissyteigen pregnant again?" To which Teigen responded, "I just had a baby but thank you for being soooo respectful."
Another Twitter user questioned why Teigen was at television's biggest night, despite the fact that she is literally the star of a reality TV show and just generally really famous.
"Chrissy Teigen is beautiful," the Twitter user's tweet said, "but does she have to be included in everything just because she's married to John Legend? #Emmys." Girl, what?! First of all, why are you assuming she's only been invited because of her husband before you even look up her TV credits? Second, I don't have time to break down every offensive facet of this tweet. To make things even more ironic, this Twitter user, according to her own bio, is a news anchor/reporter. A literal purveyor of facts. Lord, help me.
Teigen shot back, "breathe, chrissy."
The original tweet has since been deleted, but we have the receipts. John Legend clapped back at this one, as well, tweeting, "A reporter who doesn't know how to use Google. How sad."
I can't tell if Teigen gets considerably more rude tweets from Twitter trolls, or if she just calls them out more often than other celebrities. Either way, this constant criticism of women is so damn infuriating. If you've never met these women in person, what are you doing imposing your unwarranted opinions on what they do with their bodies? If you have met these women in person, what are you doing imposing your unwarranted opinions on what they do with their bodies? Leave them and their haircuts alone!