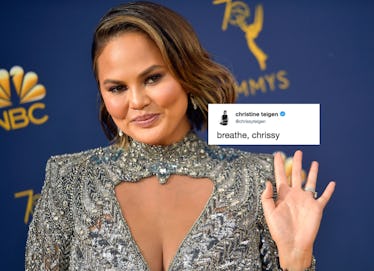 Chrissy Teigen Clapped Back At A Body-Shamer While At The Emmy Awards
Matt Winkelmeyer/Getty Images Entertainment/Getty Images/Twitter
Listen, people. There's a lot of things we're not going to do, and making Chrissy Teigen feel bad about herself is at the top of the damn list. The 2018 Emmy Awards went down on Monday, Sept. 17, and the internet's favorite couple, Chrissy Teigen and John Legend, attended. Unfortunately, there were some people on Twitter body-shaming Teigen during the Emmys because women just can't catch a damn break, but Chrissy Teigen's response to a body-shamer while literally sitting in her seat at the Emmys was one of the best parts of the night, and it wasn't even part of the broadcast.
Leading up to last night's Emmys broadcast, John Legend had already achieved his EGOT status thanks to his win at the Creative Arts Emmys last week for producing Jesus Christ Superstar LIVE, but he was also nominated for his performance in the live show. Teigen, of course, is one of the stars of Lip Sync Battle, and she's just the best person to have at award shows (as well as Hannah Gadsby), so the night wouldn't have been complete without her in the audience to gift us with our new favorite reaction memes.
Despite all of the happiness and success Teigen and Legend have gotten to celebrate lately — Legend's EGOT status, Teigen's Target collaboration, Cravings 2 coming out soon, their happy family, literally so many things — people on Twitter felt the Emmys was the perfect time to critique Teigen's body, because of course! When is it not the perfect time to force your unwarranted opinion on women's bodies onto the Twitter feed! Never. It's never the perfect time.
A Twitter user tweeted a photo of Teigen and Legend on the Emmys red carpet and said, "I'm asking this with the utmost respectful [sic], but is @chrissyteigen pregnant again?" Teigen quoted the unwarranted tweet and said, "I just had a baby but thank you for being soooo respectful."
Mind you, she was literally in the theater watching the Emmys as this happened.
Just for the record, Chrissy Teigen looked damn amazing last night.
Unfortunately, the ignorance didn't end there.
Another Twitter user (who is a TV news anchor/reporter, according to her Twitter bio, aka trained in finding facts and talking about them), tweeted, "Chrissy Teigen is beautiful but does she have to be included in everything just because she's married to John Legend? #Emmys."
Chrissy Teigen would be invited to the Emmys regardless of who she's married to! She has a full-time job on TV! Legend works on TV sometimes! How does this woman not know this!
Teigen quoted the tweet mid-Emmys and said, "Breathe, Chrissy."
She immediately followed that up with a tweet that makes me genuinely sad. She said, "Man. You guys are brutal."
If everyone could just please stop harassing Chrissy Teigen just for being a woman, that'd be f**king great.
Legend stepped up to bat to defend his indisputably independently successful wife and responded to the news anchor's ignorant tweet.
"A reporter who doesn't know how to use Google. How sad," he said.
Legend is just one of the many people coming to Teigen's defense on Twitter following the bullsh*t barrage she was forced to endure.
Can we just have one night where a woman's body isn't critiqued and her success isn't assumed to be attached to a man? Just one?