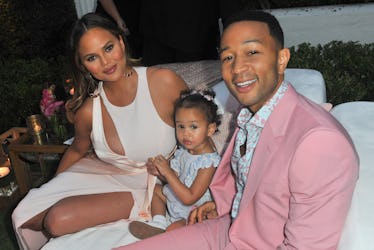 Chrissy Teigen Just Shared The Cutest Photo Of John Legend & Miles With Tons Of Teddy Bears
Jerod Harris/Getty Images Entertainment/Getty Images
Chrissy Teigen and John Legend catch the cutest photos of their kiddos. The two are always posting new adorable shots of Luna and Miles, but this new photo of Miles and his dad might take the cake this week, and it's only Monday. Chrissy Teigen's photo of John Legend and Miles surrounded by teddy bears is about to make your heart burst with joy, as I'm sure it did Teigen's.
Teigen started off with posting a sweet picture of Miles sitting on a couch surrounded by at least eight teddy bears. The 5-month-old is grinning from ear to ear in the photo that was fittingly captioned, "BEARS!!!" with a bunch of bear emojis. She promptly posted another shot of Miles among the teddy bears, this time, with John Legend thrown in. "All the bears!!" Teigen captioned the post showing her husband and son (who are literally twins) cuddling together.
Considering Miles is basically the same size as these teddy bears, I'm going to go ahead and say this is the cutest photo Chrissy Teigen has shared of her son to date.
Just look at all of the cuteness in this photo! That is the face of pure joy, people!
And here we find John Legend and his mini clone amongst the sea of teddy bears.
The cute?! I can't handle the cute!!
The Teigen/Stephens family seems to really love their teddy bears, as Teigen posted this sweet photo of Luna amongst some giant teddy bears in Seoul back in March.
And in the photo Teigen posted of the family of four posing on the set of their upcoming NBC Christmas special, Luna is holding another teddy bear.
"That's a wrap on our @NBC Christmas special!!! holy holy I can't wait for you guys to see this - thank you to all of our special guests - our friends, our family, the endless work from team legend - we love you guys. I think the word is blessed?? We are blessed," Teigen said in the caption of her post. Miles is wearing a newsies cap and a bow tie and appears to be half asleep in the picture, so you better believe we are the blessed ones here.
Teigen recently opened up about Miles' personality to E! News, saying he's just like his dad in the sense that he's quiet and reserved. "Honestly, he loves the quiet moments. He loves story time, but Luna was just such a bull," she said. "From the moment she came out, you just knew she was going to be such a Luna — just a nutcase. He's not really into anything. He loves sleeping and milk."
"He loves being told he's handsome. He really lights up," Teigen also revealed, which is the cutest thing I've ever heard. "He's starting to roll and it's adorable to watch."
She then reiterated that Miles (who she calls her "mini John") is exactly like Legend, both in how he looks and acts. "Miles is so reserved — he's just John," she said. "He's just a cuddly, lovable little ball."
In case you have any doubt that Miles Stephens looks exactly like John Legend, Legend posted a side-by-side baby photo of him and Miles.
The photo on the top shows Miles laying on a yellow blanket, and the bottom photo shows baby John Legend laying on a yellow blanket. It literally looks like Legend's face was copied and pasted onto Miles. "Miles inherited my love for lying on mustard colored blankets," Legend said in the caption. The only thing missing here is a pile of teddy bears.