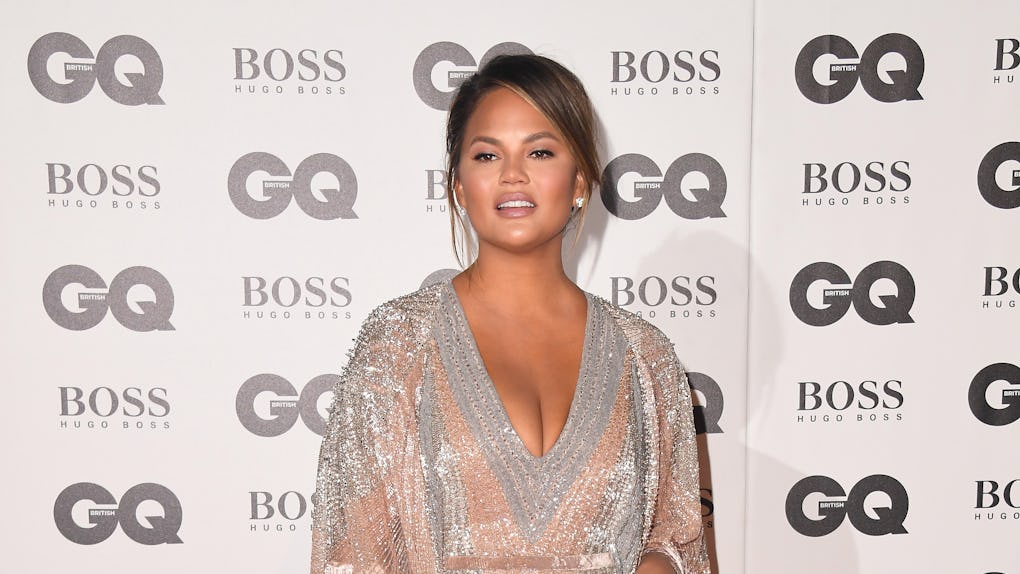 Stuart C. Wilson/Getty Images Entertainment/Getty Images
Chrissy Teigen's New Photo Of Miles Shows He's The Cutest Ever, Even When He's Drooling
Looks like little Miles Legend has officially entered the teething stage, you guys. Chrissy Teigen and John Legend welcomed their little guy just a few months ago, and he's already been featured in a bunch of his entrepreneur mama's Instagram posts. Like the one from their recent family vacay in Bali, and the one where a newborn Miles joined his mom on stage during her speech at the Families Belong Together March. But Chrissy Teigen's photo of Miles drooling — which she shared on social media a few hours ago — just seriously stole my heart. I mean, this is one cute kid, even with saliva running down his gorgeous face. He's also the spitting image of his EGOT winning father — and yes, that pun was 100 percent intended and no, I don't feel bad about it at all.
I do, however, feel bad that Teigen and Legend are headed for some sleepless nights thanks to Miles' teething. Because, man, that stage really sucks. But still, their latest addition is just so cute that it's totally all worth it, you know?
Anyway, the Cravings cookbook author and Lip Sync Battle host posted the sweet pic of Miles to both her Insta and her Twitter on Sept. 13, along with the succinct caption, "I can't take it."
So freaking cute — even if that golden blanket Miles is sprawled on does kind of resemble a certain appetizer.
"Now I want onion rings," wrote one tweeter. And OMG same!
Back on Instagram, John followed up his wife's post with one of his own:
"Miles inherited my love for lying on mustard colored blankets," he wrote in the caption of the adorable comparison shot. LOVE IT! I could legit stare at this collage all day, so well done, Mr. EGOT! Although I can't help but wonder if he was initially inspired by this tweet:
They really do look so much alike, you know?
Meanwhile, Chrissy will open up about motherhood and her life with John in a primetime special called "Sunday's Best: Celebrating 40 Years of CBS Sunday Morning," set to air on Friday, Sept. 14 at 8:00 p.m. ET/PT. For the piece, she also got real about her fertility struggles, her influence on social media, her battle with postpartum depression, and, um, why she should have eaten her placenta following the birth of daughter Luna like she did after Miles was born.
Watch:
Of COURSE they grill the placenta in LA!
Teigen also revealed during the interview that she no longer worries about getting back her pre-baby bod. And OMG how refreshing is THAT?!
"I really prefer being happy and getting to eat things that I love, still wanting to be healthy," she said. "But I just don't care about looking good in a swimsuit anymore. I guess that's the only way to put it."
I know John is the one with an Emmy, Grammy, Oscar, and Tony under his belt, but in my book, it's Chrissy Teigen who deserves all the awards.