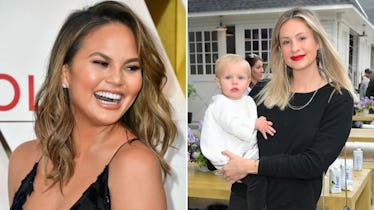 Chrissy Teigen's Hairstylist Reveals What It's Like To Work With A-List Celebs
FRAZER HARRISON/Charley Gallay/GETTY IMAGES
Do your friends tell you you're "celeb obsessed"? Do you follow your favorite celebs' every move? Know their Instagram histories so well that you can rattle off their inner circle by name and IG handle? If yes, Elite Daily's new series, SideClique, is just for you. We're bringing you everything you've ever wanted to know about the people living their lives right alongside our favorite celebs.
I am obsessed with Laura Polko's Instagram account. The celeb hair goddess is responsible for handling the hairstyles of some serious A-listers — Oh, look, there's Chrissy Teigen! and Gigi Hadid! and Bella! and Shay Mitchell! — so scrolling through her feed feels a little like getting to hang with the cool girls in the VIP section. Or, at least, like watching them all hang out with each other. In other words, it's really dope and I'm all kinds of jealous. Like, can you even imagine being Chrissy Teigen's hairstylist? Does she bake you her famous chocolate chip banana bread to munch on while you braid? Do you get to hang with John Legend and baby Luna? I needed answers, so I spoke to Polko in order to get all the awesome deets.
Here's what I found out: Kim Kardashian has "amazing hair," '90s snap clips and scrunchies are back in a big way, Batiste Dry Shampoo is a girl's best friend, and Poppy Delevingne is Polko's most game client since "she's rad" and basically up for anything. But I'm getting ahead of myself here. The first thing I really needed to know was how on earth Polko landed this glam gig that involves taking Snapchat selfies with the Hadid sisters.
"I knew I wanted to become a hairstylist when I was in high school, and more importantly, I knew that there was nothing in college that I wanted to do," she explains. Instead, she graduated from cosmetology school at the Aveda Institute in 2006, then started working in salons in Columbus, Ohio, before moving to New York to focus on editorial and advertising work. One day, a lucky break came her way when her friend asked her to work on a shoot for @findyourcalifornia with Pretty Little Liars star Ashley Benson.
"It was such an amazing shoot that just doesn't happen on a typical editorial. Ashley is so major so I definitely think that opened up doors," Polko says.
Once she had found a way in, Polko says she was able to stay there by working hard and being available. "Ultimately, people have to like you," she explains. "Doing someone else's hair or makeup is so intimate, so you have to feel really comfortable with who you are working with."
I think she looks pretty comfortable with Lea Michele, don't you?
And check out this shot of her hanging with Olympic skier Lindsey Vonn, who Polko recently styled for the 2018 Academy Awards.
"I love Lindsey Vonn," she says. "I've worked with her for so long, so to get to do something cool and different on her at a major event like the Oscars, it was really fun. It was especially fun to play around until everything looked absolutely epic. And in the end, I think it really complimented her dress and she felt great, which is the most important part of getting someone ready for a red carpet event."
Intricate wraps like this one she did on Vonn (above) are something Polko has totally mastered. And in fact, she says one of her all-time fave celebs styles is the twisted low pony wrap-around situation she did on Chrissy Teigen (in the picture below) for a recent red carpet.
"Chrissy loves braids but she also loves having her down, or even just pushed back," she says. "It's all up to what she's feeling and what she's wearing for the day."
Speaking of braids, I was curious if Polko thought we could expect to see more of them during festival season this year. "Braids will always be a part of festival season," she says. "This year, I think it will be a variation of different braids mixed in with easy, messy, textured hair." And that's where the Batiste Dry Shampoo comes in, which Polko recommends toting along in travel size on a festival day. "[It] provides hair with an instant refresh, while adding body and texture," she explains.
How cool are those colorful braids on Poppy in the picture above?
Of course, styling celebs is not all fun and glamorous. "My day-to-day is all over the place!" Polko explains. "I am constantly going to different parts of the city and to different cities in general… I go from one client a day to a few different clients throughout the day… and then sometimes, I will have a random Tuesday off! It's not as flexible as it sounds since your hours aren't traditional. With the untraditional hours, you end up working a lot more and that really surprises most people."
Still, Polko says that at the end of the day, being a celeb hairstylist is
 just like any other job. "They all have their ups and downs but I'm just so grateful that this is where I've ended up," she says. "I can't really complain that any of it is really hard… it's not bad!"
And as for her dream celeb client? "That's too hard to answer," she says. "There's too many babes out there with good hair!"