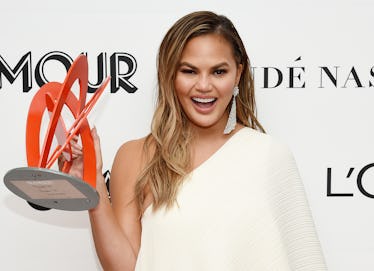 Chrissy Teigen Got Super Emotional While Thanking John Legend During An Acceptance Speech
Dimitrios Kambouris/Getty Images for Glamour
Chrissy Teigen and John Legend were both in tears as Teigen accepted her Glamour Women of the Year award on Monday, Nov. 12. Legend introduced Teigen, who was one of several women receiving the award that night, with a beautiful and tearful introduction. And in true Chrissy-Teigen-and-John-Legend form, they trolled each other a bit during their times at the mic. But this night was all about Teigen and the other women being honored by Glamour, and Chrissy Teigen's Glamour Women of the Year speech was a moving moment during a night full of inspiration.
After a teary-eyed John Legend finished his introduction for his wife, whom he called the "heart and soul" of their family (uGgGGggHHH), Teigen, also crying, took to the stage and basked in the inspiration of the night. "I never thought I'd be the kind of person who would win anything," Teigen recalled. "I was used to being on his [Legend's] arm. I was excited to support him and be there, but this is an honor."
During his intro, Legend had told a story about Teigen crying in the dressing room at a past award show because she felt she didn't belong there. Teigen teased that she was planning on talking about that in her speech and Legend ruined the surprise, then she got serious about that moment. "I sat around this incredible table of people who were so amazing and inspiring," she said. "They were all asking each other what they did. When it got to me, they asked what I did, and I said I didn't know. I didn't know what I was going to do or what I could be. I didn't have a team behind me that I knew could inspire me to be those things. Now, I have that team."
Teigen said that, despite feeling intense imposter syndrome at this event (it was the TIME 100 annual celebration, according to Legend's intro), it was a pivotal moment for her when she realized that she could grow into someone she felt was worthy of that night's honor. (Of course, she did deserve to be there, but it's an understandable sentiment.)
Teigen said,
That was a big turning point for me, to realize I could be in a room and be inspired. I think it's good to look up to people and see the things they're doing and want to be your better self.
And don't worry, she addressed John Legend and their family in her speech as well. It was another moment that brought her to tears.
"I joke about it a lot," she said with tears building up, "but I truly have the most incredible husband on the planet." The camera cut back to Legend, who was also crying in that moment. Ugh. These two.
"You are our everything," Teigen went on. "You completely made me a woman. We've grown together. Our family's grown together. Our careers have grown together... This is so sappy, I'm sorry. I hate you, John. I really do."
Teigen also dedicated part of her speech to Glamour itself for giving her the platform to be open about her postpartum depression (she wrote a candid essay on it for the outlet in 2017).
"To this day, I get more comments [about that] than anything else," she said about her postpartum essay. "People come up to me and talk about that story... Thank you so much for getting that reach to everybody." She closed her speech with some humor, as Teigen does, and said, "I'm so honored to have this platform. I'm so honored to talk about chicken pot pies or getting blocked by Donald." Oh, Chrissy. Never change.