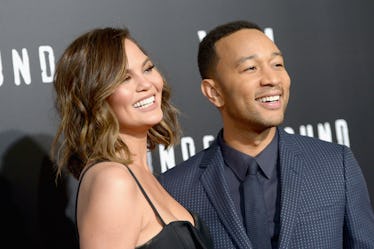 Chrissy Teigen Trolled John Legend Over His Rosé While Being Supportive AF & I'm Impressed
Charley Gallay/Getty Images Entertainment/Getty Images
Everybody knows that Chrissy Teigen is the queen of Internet trolling. She's famously trolled President Trump, haters on social media, and even her husband, John Legend. And among all those folks who've been on the receiving end of Teigen's incessant trolling tactics, Legend has probably gotten the worst (and funniest) of it. Case in point: Teigen's most recent Instagram post promoting her husband's new rosé. Teigen posted a lovely photo of the bottle, but just had to add her own commentary. And believe me when I say that Chrissy Teigen's comments on John Legend's rosé are nothing but pure hilarity.
Teigen started the Instagram post off with a little background information about how her husband wanted her to post the photo to her Instagram. Why not his? Because Teigen has a much larger following than he does. So, Teigen agreed and then asked herself a million questions about the meaning of it all, as detailed below:
my husband, John, asked me to post this because I have a much bigger social following than him. He said just something short and to the point. I said "ok john!" then had my agents follow up with a comprehensive pricing list. did he want me to keep this up for just today? a week? forever? did he want me to take a photo *with* the product, or simply the product alone? who is the photographer you are sending over? or are we using an outside location? these are important questions in an Instagram deal and a marriage.
Being the business-minded person Teigen is, it's perfectly reasonable for her to pose all these questions. It's just a tiny bit strange that she and her husband are striking social media marketing deals together.
Here's a look at the wine bottle. As you'd expect, it's really classy and elegant:
But all is good because Teigen's not about to discuss the juice details of said agreement.
She even said so herself:
while I will not discuss the terms of our agreement (I legally cannot) I will say that my husband, John, has been working on this rosé for a very long time and it is delightful. really.
Rather than disclose what this little marketing ploy entails, Teigen chose to get all poetic about how wonderful her husband's new wine is:
you can drink it with fish, chicken, broccoli, candy, Chinese food, cereal, chili, corn, hot dogs, rice, anything, out of a glass, bowl, pitcher, ladle, cupped hands, hat. It can be stored in the fridge, on a dining table, a counter, in a cabinet, an end table, really wherever you want! congratulations, John!!! buy it here: lvewines.com
Apparently, Teigen feels Legend's rosé goes well with anything. She's clearly excited for her husband, so it's great to see her being so supportive even though she's totally trolling him here.
Teigen is actually the perfect person to explain this to everyone because, as you may or may not know, she's written not one, but two cookbooks! So, she would most definitely know which foods make a great combo with her husband's rosé.
Legend is reportedly building his own winery called Legend Vineyard Exclusive. In an interview with Fast Company, the singer explained his wine-making process:
My approach to making music is very similar to my approach to making wine. You don't always get it perfectly, and everyone's taste is different, but at least you know you're going into it with the same goal and hopefully you come out with something magical.
That truly sounds amazing. With Teigen's cookbooks and Legend's wine (and music), there's just so much to look forward to from this couple. I love them so much!