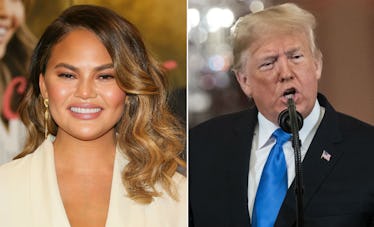 Chrissy Teigen's Answer To Whether She'd Ever Meet With Trump Is Not Surprising At All
Jean Baptiste Lacroix/Getty Images; Pool/Getty Images
Chrissy Teigen is definitely not one to mince her words. She frequently says what's on her mind, especially when it comes to politics. And she usually takes to Twitter to do it. But Teigen used an interview with EXTRA to make sure everyone knows how she feels about President Trump. When asked whether she would ever want to come face-to-face with Trump, Teigen had a whole lot to say. Chrissy Teigen's comments about meeting Trump are pretty harsh, but given her stance on Trump over the past few years, they're not terribly surprising.
During the red carpet for the Glamour Women of the Year Awards, EXTRA asked Teigen if she would ever consider meeting the President. Her response?
"No, I would never," she said, bluntly. "I would never. Never … I just can't. I think I would throw up in my mouth. I don't even know how — it's just not possible for me. It's broken the lines of 'Let's bring the parties together.' It's far past that now. He's a terrible human being."
Elite Daily reached out to the White House regarding Teigen's comments, but did not hear back by the time of publication.
You can see Teigen explaining her views on Trump in this video from EXTRA below:
As I previously mentioned, Teigen's comments aren't surprising since she frequently talks about politics and Trump, in particular, on her social media platforms. For example, just before the midterm elections, Teigen explained why she voted democrat across the board and was critical of the current administration in the process.
"Hi - I think it's awesome you're going to vote individually on issues in the way you believe. that's awesome," she wrote. "I'm going to vote blue because I disagree, across the board, with everything happening in this current administration and I believe too many republicans stand with trump."
And back in June 2018, Teigen tweeted that she and her husband John Legend wanted to celebrate Trump's birthday by donating money to the ACLU. The couple decided that they would donate a total of $288,000 dollars (that's $72,000 for the four members of their family) in honor of Trump's 72nd birthday.
"John and I are outraged to see and hear the horror stories of immigrant families seeking asylum and refuge in America being ripped apart due to the inhumane policies of the Trump administration," Teigen tweeted at the time.
You can read her entire message down below:
Needless to say, Teigen has very strong opinions about Trump. And surprisingly, she disliked him years before he was ever President. Here's what she told People in July 2017 after Trump blocked her on Twitter:
It's been a long time coming … I have been very anti-Trump since The Apprentice, like when it first started, so it didn't start during the presidency like everyone thinks. This goes pretty deep. And I don't even follow him so I'm definitely fine being blocked. There's just this part of me that's so happy that he had to actually do that. It's just funny.
So, Teigen's negative feelings about Trump have been a long time in the making and it doesn't seem like she'll be quieting down about them anytime soon. Oh well. Everyone's entitled to their political views and opinions, right?