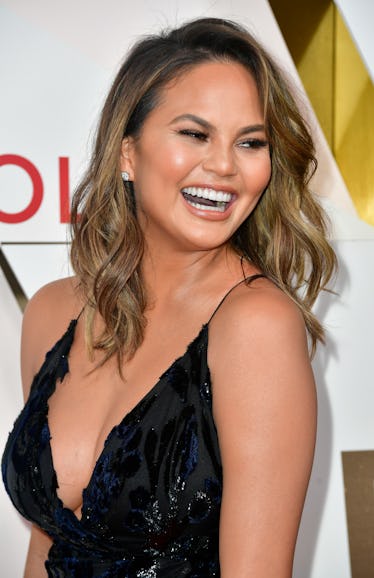 Chrissy Teigen Just Shared A Photo Of Herself Breastfeeding Miles & She's Flawless AF
Frazer Harrison/Getty Images Entertainment/Getty Images
When are the trolls going to learn that there is absolutely nothing in this world that phases Chrissy Teigen? You would think that, by now, after years and years of witty comebacks and epic roasts, anyone who is not on board with Chrissy Teigen would just back down, but NOPE! It seems that whenever Teigen posts something to social media, there's always droves of negative users who turn whatever it is into something ~controversial~ and you guys, it's just not OK. But here's the thing: She simply DGAF, and Chrissy Teigen's breastfeeding photo proves it.
Openly breastfeeding is nothing new to Teigen. Just two weeks ago, Teigen posted a photo that shows her breastfeeding baby Miles in one arm, and cradling one of Luna's baby dolls in the other on Instagram, but the angle the photo was taken made it look like she was breastfeeding both Miles and the baby doll. She hilariously captioned the photo, writing, "Luna making me feed her babydoll so I guess I have twins now."
Not only does she look like an actual goddess, but the photo itself is just funny and adorable as hell:
But let's be real here: we, unfortunately, don't live in a world where posting pictures like this is the norm, and so the haters were very quick to fire negative comments at Teigen for posting this (absurdly beautiful) photo.
According to JustJared.com, one troll tweeted, "I think it's perfectly fine for women who breastfeed in public. They are doing it because they need to. When you post on social media that you are doing it, it comes across as narcissistic though."
The post has since been taken down, but not before Teigen directly replied to the Twitter hater, epically shutting that sh*t down. She wrote,
Nah. Just chillin. Posting daily life like I do with anything else. Cooking, playing with dogs, etc. You make feeding a baby big deal because you got weird t*tty issues.
QUEEN.
So if you thought that the trolls would scare away Teigen from posting another breastfeeding photo, y'all are buggin', because that's EXACTLY what she did.
Teigen took to her Instagram Story and, in true "zero f*cks given" fashion, posted a photo of herself wearing only a towel and breastfeeding her son. I can't explain to you how gorgeously natural and perfect the photo is, so instead I'll just show it to you:
ALL HAIL CHRISSY TEIGEN.
Not only do I love her for constantly sharing photos of REAL LIFE things, but she also jokes around with her fans, showing just what it's like to live in her head when posting images that are guaranteed to start up drama for pretty much no reason.
Take the photo she posted in response to people mom-shaming her, in which the image shows her holding newborn Miles in one arm and little Luna in the other.
Her caption is basically one big LOL, describing her thought process behind what it's like for her to post a photo to social media. She wrote:
Should I post the one where his head looks unsupported but my face looks good and Luna is over it, the one where his head is supported but my face is just okay and Luna is over it, or him crying and my face looks okay and luna is over it?
Chrissy Teigen is basically beating the trolls at their own game, and I am living for it.
There's nothing Chrissy Teigen can do wrong in my eyes, so I'll just be sitting here, double-tapping every image she decides to post, and laughing at her comebacks for any troll who dares to mess with her.