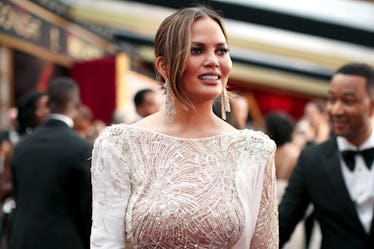 The First Photo Of Chrissy Teigen's Baby Bump Has Us So Thrilled For Her & John Legend
Christopher Polk/Getty Images Entertainment/Getty Images
Chrissy Teigen has already #blessed us with many adorable images of her and her daughter Luna. Now, we're about to get another dose of cuteness because on Nov. 21, the model announced on social media that she and her superstar musician husband are expecting — and shared a pic. It's undeniable that the first photo of Chrissy Teigen's baby bump on Snapchat will make fans so, so happy for her and John Legend.
On Nov. 21, Teigen shared the news on a couple different social media accounts. "Very excited to not have to hide this anymore. Everyone I told first was like "uh yeah, we knew thanks" she wrote on Snapchat.
On Instagram, Teigen, 31, posted a video — with the hilarious caption "it's John's!" — where she asked Luna "what's in here?" and Luna responded "a baby!" Then, she reposted the image on Twitter.
Legend, 38, wasn't going to be left out. He left his own quip in the comments of the video, writing that "Maury will have the final word on this." Then, he tweeted the Instagram video with two baby emojis.
Teigen and Legend have been married for four years. While they have a one and a half year-old, the news is all the sweeter given their openness about their fertility struggles.
Teigen and Legend have been together for a long time — they began dating when she was in her twenties — and have wanted a "huge family." Before the birth of her daughter, she discussed what it was like struggling to have a child.
"I would say, honestly, [that] John and I were having trouble. We would have had kids five, six years ago if it had happened, but my gosh, it's been a process," she told Us Weekly in 2016.
Not only was Teigen brave to open up about such a sensitive issue, but she's also a trooper. She also revealed that she had in vitro fertilization (IVF) while she was shooting the Sports Illustrated swimsuit issue in February of 2016.
"I was getting my shots and everything in Zanzibar, I had a little medical kit," she told People. "It was hard because you bloat from it, and you bruise ... if I hit the wrong area. That's the kind of things we had to cover with makeup."
As for the new baby, Legend told Cosmopolitan in August that he hoped fertility treatments would help the couple have another child.
"We're lucky that we're living in an age where we can conceive in other ways. [IVF] brought us Luna and hopefully it will bring us a few more awesome kids, too," he said.
Given the couple's struggle, it's easy to see why fans and famous people alike rejoiced on social media at the news of Teigen's pregnancy. Many congratulated her and Legend and others pointed out that her caption was the perfect witty response. Teigen has a reputation for being hilarious and witty on her social media, so obviously her baby news wasn't going to be an exception.
Though Teigen and Legend are expecting, they don't appear to be slowing down in their professional lives anytime soon. Teigen is the co-host of the show Lip Sync Battle and is quite the foodie as the author of the cookbook Cravings: Recipes for All the Food You Want to Eat. Legend, a Grammy, Oscar and Tony winner, recently put out a video for his song "Penthouse Floor."
While the couple are pretty much slaying in Hollywood, Teigen could also teach a master class in posting hilarious tweets and cute videos — even about the last time she had a baby.
Thanks to the posts, Luna is a star in her own right. By the time the Legends have baby number two, Luna will have enjoyed a couple years of only childhood. But, in an interview with People on Nov. 17. Legend didn't seem too worried. He told the magazine that the soon-to-be big sister "is very sweet and she likes to share, so hopefully that will translate."
Even if she doesn't share, let's be honest: with Teigen and Legend as parents, these are going to be two cool kids.