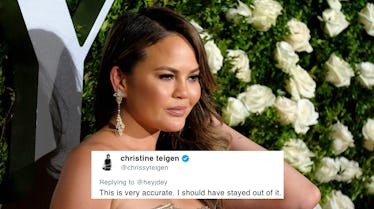 Twitter Is Pissed At Chrissy Teigen For A Good Reason & Her Response Was Mature
Jemal Countess/Getty Images Entertainment/Getty Images
The Kanye West drama continues, and somehow, Chrissy Teigen is still involved. We know Teigen and her husband, John Legend, are very close with Kim Kardashian and Kanye West, making some of West's personal business Teigen's personal business, too. It seems like she recently stepped in hot water when she unintentionally got in the middle of the beef between West and Donda's House co-founder, Rhymefest, on Twitter. However, our main girl now knows she messed up. Chrissy Teigen's apology for her tweet is an effort to explain her actions and defend herself from angry followers.
To understand why fans were upset with Teigen you've gotta understand what happened with Rhymefest. If you're like me, you might be furiously Googling "who or what is Rhymefest?" Rhymefest is a hip-hop artist who co-founded Donda's House with Ye (and served as a co-writer on Kanye's classic "Jesus Walks"). Named after West's late mother, Donda's House "provides unprecedented access and education from leading experts in the arts, culture & entertainment industry to Chicago's creative youth."
As you might recall, Kanye West recently went on one of his infamous Twitter rants in which he showed support for Donald Trump, causing loads of controversy. Following West's word vomit, Donda's House issued a statement distancing itself from the rapper. The statement said:
While we cannot and do not speak for Kanye West and his views, we can and will speak up for the youth that we serve... We ask that those who feel hurt, angered by or frustrated with Kanye West not penalize or throw away their support, respect and advocacy for us... We ask that as you boycott and protest Kanye West, that you not forget that we are a non-profit organization that like other non-profits needs donations, corporate support and volunteers.
OK, OK, OK. Now I'm going to bring up Drake.
Around the time of the Donda's House statement, Drake posted an invoice to West's record label, G.O.O.D. Music, citing a fee of $100,000 dollars for "promotional assistance and career reviving." In response, Rhymefest tweeted a Drake saying "when G.O.O.D. Music sends the money they owe you, will you please help us rebuild Kanye's mother's house for the youth of Chicago. I spoke to Kanye about it. His response was 'f*ck the youth of Chicago.'"
Still with me?
This move on Rhymefest's part provoked West's wife, Kim Kardashian, to join the dialogue and go on her own Twitter rant. She blasted Rhymefest for not being able to maintain Donda's House properly, accused him of using West to try to get his music into the studio, and for wearing fake Yeezys. Obvi.
Elite Daily has reached out to Rhymefest's team regarding the claims Kardashian made in her Twitter rant, but did not hear back by the time of publication. It is worth noting that more than a few Twitter users based in Chicago expressed disappointment in Kardashian's tweets maligning Rhymefest, vouching for all the good he's done in Chicago through Donda's house.
Annnd this is when Chrissy's jumped into the fray. Once her bestie Kim stepped in, Chrissy just couldn't help herself. She commented on one of Kim's tweets with the world's most versatile Kim Kardashian gif showing Kardashian peaking out from behind a tree. Teigen also tagged Kardashian and Rhymefest.
Now you're up to speed.
Fans felt Teigen's move was provoking Kardashian and West and belittling the issue at hand, which they felt was in direct conflict with her usual anti-Trump and politically "woke" narrative. Twitter users didn't hold back voicing their opinion.
Thanks to the outcry, Teigen jumped back online to explain herself, openly admitting, "I should have stayed out of it." Teigen explained she posted the gif to resemble herself watching the drama from the sidelines, not realizing it came across as taking sides. She tweeted, "I posted a gif of me watching the drama (tagged to both kim and rhymefest). People took it as me laughing at underprivileged Chicago youth because ???"
She also commented on one user who accurately broke down the drama in a series of subtweets, saying she "didn't know how deep" her actions would go.
Teigen also says it was Kardashian's rant that perked her up in the first place.
Maybe Teigen will play the game differently next time, but at least she's better prepared for it.
Check out the entire Gen Why series and other videos on Facebook and the Bustle app across Apple TV, Roku, and Amazon Fire TV.