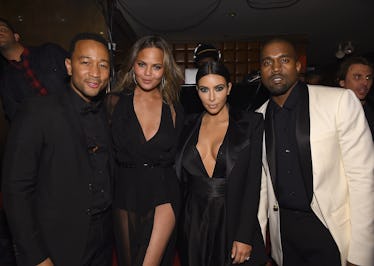 Chrissy Teigen & Kim K Had The Best Reaction To Kanye & John Legend's Twitter Feud
Dimitrios Kambouris/Getty Images Entertainment/Getty Images
So, Kanye West is most definitely going off the rails on Twitter The famed rapper has a new album coming out soon and it seems he's ready to clean house in preparation. And by clean house, I mean that he's gotten rid of his existing team, freed his mind, and let his Twitter feed run wild. Everyone from fans to fellow celebs are reacting quite viscerally to West's antics, especially since he's now aligned himself with President Trump. You know who's not reacting negatively, though? His wife and her good friend Chrissy Teigen. Yup, Chrissy Teigen and Kim Kardashian's tweets in response to West are pretty hilarious.
To understand how and why Teigen's and Kardashian's tweets are so funny, let's take to take a step back and figure out what went down:
The whole debacle started on April 19 when West began a tirade on Twitter about writing his own book in real-time (via Tweets) and not being held back creatively. Since then, West has been dropping bits of Kanye-esque knowledge, wisdom, and all around foolishness.
His Twitter feed is such a huge mess right now that even John Legend is stepping up to tell West his two cents. But that went awry, too, since West took it upon himself to expose Legend's good-intentioned texts via Twitter:
That then prompted West's wife, Kim Kardashian, and family friend Chrissy Teigen (Legend's beloved wife) to step up and do what everyone else kind of wants to: laugh it all off. Because it's ridiculous, right?
Yeah, it definitely is. So, here's how Kardashian and Teigen took their strange situation in stride:
First, Teigen tweeted Kardashian and asked if they were still on for dinner:
Which is actually funny in and of itself because one would think the two couples were feuding based on West's Twitter antics. Obviously not.
Then, Kardashian tweeted Teigen back:
Bottom line is that dinner for the two couples is still on and no phones are allowed at the table, which is probably a really smart move.
It's unclear as of yet why West is on such a Twitter rampage right now. Many media outlets are speculating that West is experiencing a mental health crisis. Back in November 2016, West was hospitalized for several days and placed on psychiatric hold. The hospitalization occurred after West was observed behaving erratically while on tour. He was released a little over a week later.
Kardashian, however, is adamant that mental health issues are not the cause of his behavior. On April 25, Kardashian took to Twitter to dispel those rumors and explain to fans and media alike that speculating about West's mental health is unacceptable:
Kardashian is clearly disheartened by the way the media is characterizing her husband, and rightfully so. Mental health is a serious issue and there's loads of stigma attached to it. It's great to see Kardashian taking a stand, not only for her husband but, by extension, millions of other people, too. At the very least, her tweets will encourage people to question their snap judgments about what mental illness is and can look like, which is always a good thing.
Whatever's causing West's behavior and social media rants, it's obvious that he's got good people standing by him. Kardashian is on his side, as are Teigen and Legend, it seems. And at least those people can take a moment to joke about the ridiculousness of it all, which it most definitely a positive sign. Hopefully, West can clarify himself and his actions, though something tells me that it's unlikely he'll do that. Guess the world will have to wait and see!