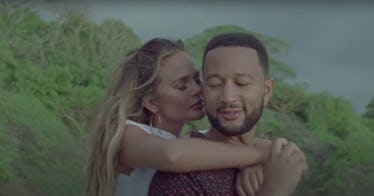 Chrissy & John's Body Language In His New Music Video Is Unbelievably Hot
Courtesy of John Legend on YouTube
If you haven't seen the music video for "Wild" by John Legend with Gary Clark Jr. yet, make sure you crack up a window before watching, because it is hot. In the video, an often shirtless Legend romps around a beach in Mexico with his wife, Chrissy Teigen, and for three minutes and 45 glorious seconds, fans get to watch them make out in cabanas and splash in the water. Chrissy Teigen and John Legend's body language in "Wild" is sexy and tender at the same time — but it's their body language at the end of the video that has the world talking.
I reached out to Traci Brown, body language expert and author of Persuasion Point: Body Language and Speech for Influence, to get her thoughts on the lovebirds' best moments in the video, including that moment at the 3:21 mark when Teigen seemingly suggested she's expecting her third baby with Legend. Sources for People reportedly confirmed the rumored pregnancy, and hours later, Teigen confirmed the news herself. She tweeted a video of her cradling her baby bump and said, "Look at this third baby sh*t. Oh my God."
As Teigen and Legend face the arrival of their third little one, their chemistry is undeniable. Here's how Brown interprets Teigen and Legend's "Wild" body language.