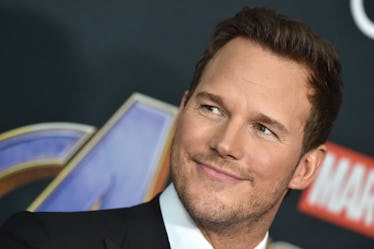 Jason Momoa Called Chris Pratt Out On Instagram & His Response Was Epic
Axelle/Bauer-Griffin/FilmMagic/Getty Images
Chris Pratt and Jason Momoa just won the award for friendliest celeb social media callout of 2019. After Momoa noticed a plastic water bottle in Pratt's latest Instagram photo, he went into lecture-mode, but it's what happened after that really caught fans' attention. Chris Pratt's response to Jason Momoa calling him out is pure joy.
The banter began on Tuesday, Dec. 3, when Pratt posted an Instagram posing with a non-reusable water bottle at the gym to promote his Amazon workout list. The snap caught the attention of Momoa, a vocal advocate for clean oceans.
"Bro i love u but wtf on the water bottle," Momoa wrote. "No single use plastic. come on."
While Pratt could have gotten defensive after being called out by his fellow superhero, he decided to explain himself and take ownership of his actions.
"Aquaman! You're completely right," Pratt replied. "Dammit. I always carry my big gallon size reusable water jug around with me too. I even had it that day!!!"
As it turns out, Pratt had a pretty understandable reason for the lapse. "Somebody threw that plastic bottle to me in the photo shoot cause I didn't know what to do with my hands!" he explained.
Alberto E. Rodriguez/Getty Images Entertainment/Getty Images
Ricky Vigil M/GC Images/Getty Images
He made it clear there was no love lost between him and Momoa, writing, "Love you too buddy. My bad. I don't want your home of Atlantis covered in plastic. Hear that kids? Reduce. Reuse. Recycle."
Pratt and Momoa's interaction was as sweet as can be, but some people jumped in to slam Pratt and take Momoa's side.
"I agree. @prattprattpratt even for a photo shoot it sends the wrong message," one wrote. "Should have used a reusable aluminum bottle. Most single use bottles don't get recycled and end up in oceans and landfills."
The backlash led Momoa to post a photo of himself and his kids with Pratt, praising the Parks and Recreation actor.
"@prattprattpratt BRO you know my children and I are madly in love with you and I love everything you do," Momoa captioned the snap. "I'm sorry this was received so badly today I didn't mean for that to happen. I'm just very passionate about this single use plastic epidemic. the plastic water bottles have to stop."
With a nod to what Pratt's partnership with Amazon, Momoa joked: "I hope u make a reusable water bottle for amazon so we all can purchase. You're an inspiration to many I'm one of them. I'll send you a case of MANANALU. All my Aloha, Da Momoa's."
Pratt and Momoa just cemented their bromance on social media while raising awareness about an important cause, and that's something everyone can get behind.